'Young & inexperienced': Iran's Revolutionary Guards slam Macron over missile program remarks
Published time: 23 Nov, 2017 14:02
Edited time: 24 Nov, 2017 07:59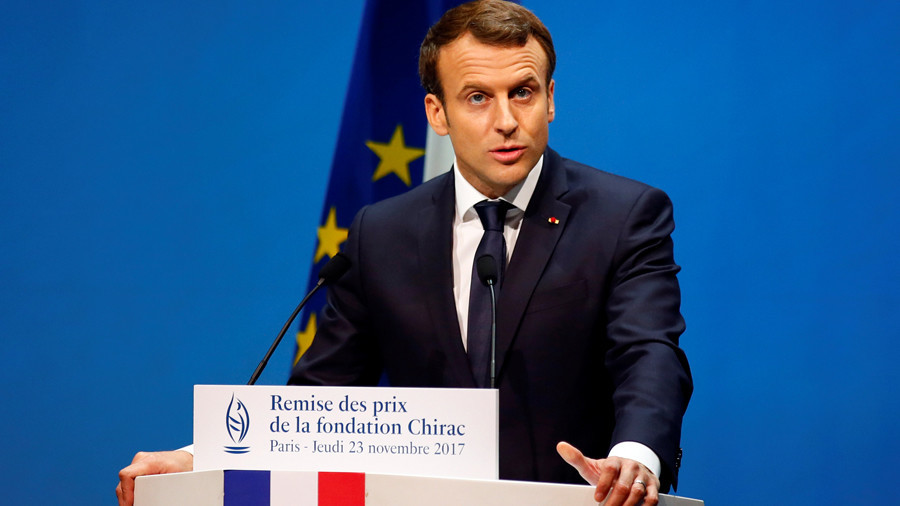 The chief of Iran's elite Revolutionary Guard Corps has slammed French President Emmanuel Macron as being "young and inexperienced," claiming those characteristics were behind the leader's recent remarks on Tehran's ballistic missile program.
Mohammad Ali Jafari took aim at the French president on Thursday, Reuters reported, citing state TV. It followed comments that Macron made during a visit to Dubai on November 9, when he suggested amending the JCPOA, the key agreement on Tehran's nuclear program, despite eight International Atomic Energy Agency (IAEA) reports confirming that Iran has fully complied with the deal. The French leader said that the "ballistic activity of Iran" should be renegotiated – though it is not covered under the accord – "with sanctions if necessary."
Later that day, Macron made a surprise visit to Saudi Arabia where he said that he was "very concerned" by Iran's ballistic-missile program. He argued that the missile used in a failed attack on Riyadh from Yemen earlier this month was "obviously" an Iranian missile.
Iran and Saudi Arabia are regional rivals, which have recently entered a new spiral of confrontation.
Iran officially rejected Macron's suggestion on November 12, saying its ballistic-missile program is purely defensive and unrelated to the nuclear deal.
"We have told French leaders on several occasions that the Iran nuclear deal is not negotiable," said Foreign Ministry spokesman Bassam Ghassemi, according to IRNA. "France is fully aware of our country's firm position that Iran's defense affairs are not negotiable."
During a press conference in Gothenburg, Sweden last week, Macron said: "We want an Iran that is a less aggressive power and for its ballistic-missile program to be curtailed. But Iran is a regional power and we speak to them." Referencing the ongoing feud between Iran and Saudi Arabia, Macron claimed that France wasn't willing to take a side.
Macron has also become involved in the crisis involving Lebanese Prime Minister Saad Hariri, who announced his surprise resignation in a broadcast from Riyadh earlier this month. In his speech, he accused both Hezbollah and Tehran of sowing strife across the region, prompting some to believe his decision to step down was due to pressure from Saudi Arabia and the result of Lebanon becoming embroiled in Riyadh's feud with Tehran.
READ MORE: Macron wants to amend Iran nuclear deal to avoid Tehran's 'hegemony' in Middle East
The French president personally invited Hariri to Paris after speaking by telephone to the prime minister and Saudi Crown Prince Mohammad bin Salman. Hariri indeed arrived in Paris from Saudi Arabia on November 18, before departing for Cairo and then Beirut.
Macron also spoke to Iranian President Hassan Rouhani by telephone on Tuesday. During the call, Rouhani stressed that France can play a positive role in the region if it doesn't pick sides, state TV reported. "We are against adventurism and creating division in the region and believe that France, by keeping an independent vote and its position in the region, can, with a realistic and impartial approach, have a productive role," he said.
However, earlier this month Iran's words weren't so kind, as it accused France of sparking further tension in the Middle East by taking a "biased" stance on Tehran's regional policy.
"It seems that France has a biased view toward the ongoing crises and humanitarian catastrophes in the Middle East," Foreign Ministry spokesman Bahram Qasemi said at the time. "This view fuels regional conflicts, whether intentionally or unintentionally."
That remark came just one day after French Foreign Minister Jean-Yves Le Drian said that Paris was worried both about Iran's involvement in the Middle East crisis and its ballistic-missile program. "Iran's role and the different areas where this country operates worries us," Le Drian said during a joint news conference with his Saudi counterpart Adel Jubeir in Riyadh. "I am thinking in particular of Iran's interventions in regional crises, this hegemonic temptation and I'm thinking of its ballistic program."