Next stop, Paris! The strange journey of Lebanon's Saad Hariri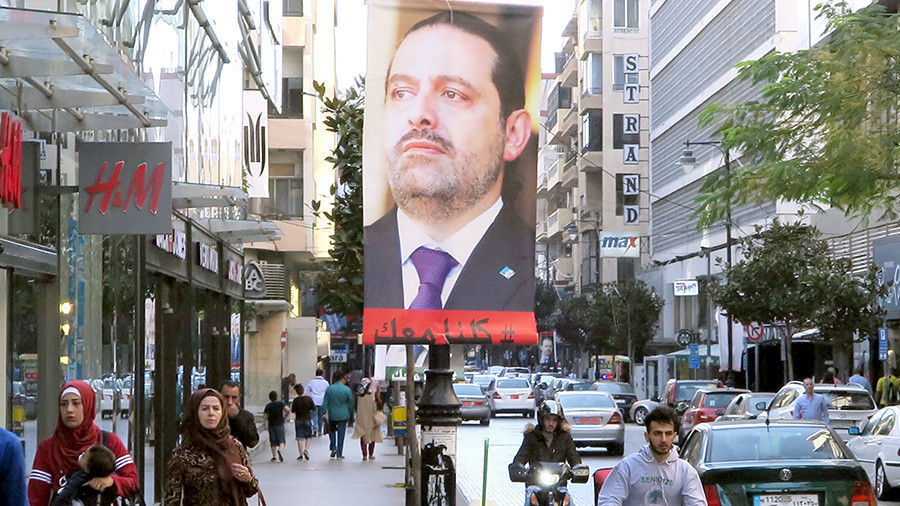 In early November, Lebanese PM Saad Hariri shocked the world by unexpectedly flying to Saudi Arabia and announcing his retirement. The Lebanese people suspected foul play on the part of Riyadh. Now they may finally have a chance to hear the full story.
In the latest twist in this incredible tale, Saad Hariri is expected to leave Saudi Arabia for France in several days before traveling to Beirut where he will reportedly formally resign as prime minister. To say Hariri's return will be a momentous event would be a great understatement. Naturally, speculation is rife among Lebanese citizens that Hariri, a Sunni Muslim politician with strong bonds to Saudi Arabia, was coerced to quit.
Lebanese President Michel Aoun said Thursday that he looked forward to Hariri's return following the latter's acceptance of the French invitation. "I await the return of PM Hariri to Beirut so we can decide on the situation of the government – if he wants to resign or rescind his resignation," Aoun said, according to presidential sources quoted by Reuters.
Earlier, French President Emmanuel Macron invited Hariri to France after speaking to him and the Saudi Crown Prince, the Elysee Palace said on Wednesday. Macron insisted that the invitation is not an offer of political exile.
The flight of Hariri
This sensational story began on November 3 when Hariri suddenly and without apparent warning boarded a flight from Beirut to Saudi Arabia. The next day, from the capital Riyadh, he announced his resignation, pointing to the "regional interference" of Iran and Hezbollah as the reason for his decision. He also said he feared assassination, which is certainly reasonable given that his father, former Prime Minister Rafik Hariri, was killed in a massive truck bombing in 2005.
Analysts are of the opinion that Riyadh had grown exasperated with Hariri's power-sharing arrangement with Hezbollah. And with Iran and Hezbollah's success in helping to defeat Islamic State terrorists in Syria, tossing President Bashar Assad a veritable lifeline, this was seen as the last straw.
Hariri's flight to Saudi Arabia and subsequent resignation, however, was just one earthquake among many to rock the kingdom at about the same time.
On the evening of Hariri's announcement, Crown Prince Mohammad bin Salman (MbS) initiated an extraordinary anti-corruption raid, which led to the arrest of 11 princes, four ministers and many businessmen. The Riyadh Ritz Carlton has been converted into a luxury jailhouse to hold the detainees. In addition to tightly consolidating King Salman's son's grip on power, the move could potentially add $800 billion to Saudi coffers. There was probably hope in Riyadh that all of the events, taken together, would spark chaos on the streets of Lebanon. However, if that is the case, that effort failed, as has been the case with so many Riyadh initiatives of late. In fact, Lebanon seems to have been energized and united by the Hariri scandal.
"In one week of Hariri being in Saudi Arabia, the Lebanese PM has achieved more in unifying the Lebanese than he could ever have hoped for in a lifetime of politics," Beirut-based journalist Martin Jay wrote in an RT opinion piece this week.
As if the purge of Saudi Arabia's princedom and business elite were not enough, MbS began a dangerous saber-rattling display aimed at regional countries.
Saudi saber-rattling
Days after Hariri announced his resignation, Riyadh accused Lebanon of "declaring war on Saudi Arabia" because of purported "aggression" by the Iran-backed Lebanese Shiite group Hezbollah. In reality, however, this was a poorly feigned attack on Iran, which for Riyadh is the real bugbear in this story.
Although Iran-Saudi relations have been strained for over a decade, things really took a turn for the worse in January 2016, following the execution of a prominent Saudi Shiite cleric.
Then, on June 7, 2017, Iran suffered its first terrorist outrage in a decade as Islamic State militants carried out attacks against the Iranian Parliament building and the Mausoleum of Ruhollah Khomeini, leaving 17 civilians dead and 43 wounded. Many Iranian officials suggested that the attacks were the work of "foreign governments," including Saudi Arabia.
Meanwhile, Saudi Arabia is beginning to suspect that it is being outmaneuvered in its 'near abroad' by Tehran, which now enjoys an arc of influence extending from Iraq to Lebanon, and beyond, as well as in the tiny outposts of Yemen and Qatar. Riyadh exaggerates the danger of this "Iranian influence," while at the same time failing to recognize its flatfooted foreign policy as a major reason for its setbacks of late.
For example, in its three-year war against Yemen, which has already killed some 10,000 civilians, a humanitarian disaster of epic proportions is underway, threatening some 7 million Yemenis with starvation. The turbulent events of Nov.4 were partially designed, it seems, to shroud the Yemen breakdown.
As Saad Hariri issued his resignation from Riyadh, and Saudi princes and officials were being rounded up and arrested, the young Crown Prince, 32, said his military had intercepted a Houthi ballistic missile, launched from Yemen towards an international airport on the outskirts of the Saudi capital. Some analysts are of the opinion no rocket was ever fired. In any case, MbS blamed Iran for supplying the Houthi rebels with missiles.
"The involvement of the Iranian regime in supplying its Houthi militias with missiles is considered a direct military aggression by the Iranian regime," MbS told UK Foreign Secretary Boris Johnson in a telephone conversation. He added for good measure that the move "may be considered an act of war against the kingdom."
At this point in our Arabian mystery, it cannot be denied that Riyadh is working closely with the United States and Israel. It did not go unnoticed, least of all by Iran, that US President Donald Trump's son-in-law and senior adviser, Jared Kushner, had paid a visit to the Crown Prince just one month before the November tumult began.
Although the contents of that meeting have never been made public, Iran's foreign minister, Mohammad Javad Zarif, fired off a tweet that got no Trump response: "Visits by Kushner & Lebanese PM led to Hariri's bizarre resignation while abroad. Of course, Iran is accused of interference."
Judging by the secretive Kushner meeting, Riyadh appears to be working as a proxy of sorts for the region's real power-brokers, the United States and Israel.
"We don't know if the Saudis are playing a game whereby they will let Hariri go back to Lebanon as a reminder... that they can go to any extreme to remove power from him," Beirut-based Martin Jay told RT via telephone.
Now it remains to be seen if Saad Hariri and his family will remain a long-term guest of Emmanuel Macron in Paris, or if he will, as promised, continue on to the next leg of his mysterious journey back to Lebanon, where he will certainly be the center of attention from all sides.
Robert Bridge, RT