Erdogan's chief adviser calls for Turkey's NATO membership to be reconsidered – local media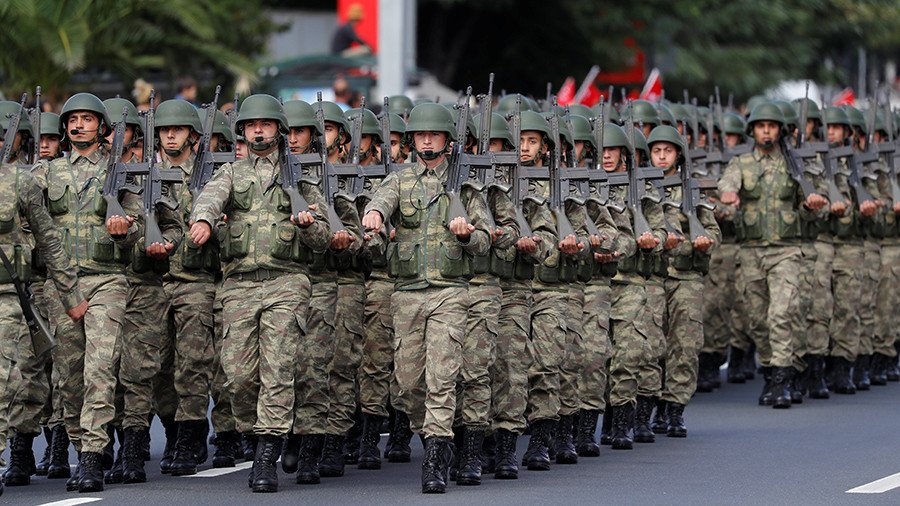 It is time to reconsider the issue of Turkey's membership in NATO, Erdogan's chief adviser, Yalcın Topcu, has stated, according to local media. Turkey has the second largest army in the alliance after the United States.
"The presence of the great Turkish nation in this institution [NATO] has become questionable," Topcu said, branding the alliance's behavior towards Ankara as "brutal and dishonorable," Haberturk daily reported.
Tensions between the military bloc and Turkey escalated last week when Turkey's founding leader, Mustafa Kemal Ataturk, and current president Recep Tayyip Erdogan were depicted as "enemies" during NATO drills in Norway. Erdogan said the incident was an attack targeting "Turkey and the Turkish nation."
"What [NATO] did is a scandal," the Turkish leader told a ruling Justice and Development Party (AKP) provincial congress in the eastern province of Bayburt on Sunday, Hurriyet reported. "They know that they cannot stop our country, which is why they are putting us on a target board. I hope that those who welcomed attacks against us before now understand the real face of the matter, as Ataturk was also included."
"The issue is not a personal or party issue. The target is Turkey and the Turkish nation," he noted.
"Today there is a Turkey that cannot be compared with 15 years ago in every field – from the economy to the defense industry, and from trade to diplomacy. There is now a Turkey that produces its own weapons and tanks," Erdogan warned.
Last week, Turkish troops were forced to leave NATO drills ahead of schedule, after the names of Erdogan and Ataturk appeared in an embarrassing "enemy chart." It was decided to withdraw all 40 Turkish soldiers from the drill "immediately," Erdogan said, adding that the removal of those names from the "enemy poster," featuring his name on one side and a picture of modern Turkey's founder, would not change his decision. "There can be no alliance like that," Erdogan said.
On Friday, NATO Secretary General Jens Stoltenberg issued a statement saying: "I apologize for the offence caused." According to the NATO chief, the incident at the alliance's Joint Warfare Centre in Stavanger, Norway was the result of an "individual's actions" and "did not reflect the views" of the alliance.
"The individual in question was immediately removed from the exercise by the Joint Warfare Centre, and an investigation is underway. He was a civilian contractor seconded by Norway and not a NATO employee," he said.
Erdogan rebuffed NATO's apology for what he called "impudence" during the alliance's drills in Norway.
"Yesterday, you have witnessed the impudence at NATO exercises in Norway. There are some mistakes that cannot be committed by fools but only by vile people," Erdogan said in a televised speech on Saturday. He added that the incident shows "a reflection of a distorted point of view that we have observed in NATO for a while."
"This matter cannot be covered over with a simple apology," he said.
There is also growing antagonism between Turkey and some of its allies within the military bloc. Ankara's decision to buy Russian S-400 anti-aircraft systems caused concern among some NATO member states, including the US. NATO Secretary-General Jens Stoltenberg said in October that Ankara's decision to purchase the S-400 does not harm the interests of NATO. The deal repeatedly came under fire from top US military officials, who said it "would be a concern" for Washington. Lack of interoperability with NATO weapons was named as one of the key problems, with the Pentagon insisting that "NATO's interoperable missile defense system remains the best option."
You can share this story on social media: