Greek police block dozens of refugees from leaving Thessaloniki for Macedonian border (VIDEO)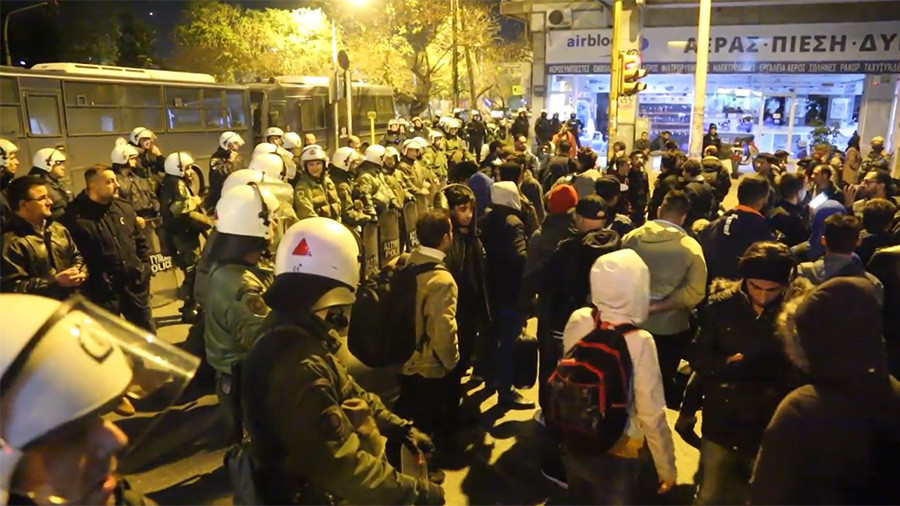 Greek police blocked dozens of asylum seekers from leaving Thessaloniki following a social media call to march to the Macedonian border. The move was aimed at protesting the inability of asylum seekers to leave Greece and travel to Western Europe.
READ MORE: Refugees launch hunger strike in Greece, demand family reunification
Around 80 people turned up in a central Thessaloniki square before marching to the Greece-Macedonia border on Wednesday, AP reported. Ruptly put the number of asylum seekers at several hundred.
The refugees were mostly from Iraq and Syria, some of whom gathered with their children. Ruptly footage showed the asylum seekers sitting in the streets with backpacks and suitcases, while roads were blocked by police and buses.
Tens of thousands of refugees are migrants are stranded in Greece. They are unable to continue their journey to Western Europe after Balkan countries, including Macedonia, shut down their land borders last year.
Greece was one of the frontline countries for new arrivals during the 2015 refugee crisis, with asylum seekers arriving on boats from Turkey. Most are aiming to leave Greece for richer Western European countries including Germany, which they believe will offer better opportunities.