UFOs, fighter jets & Transformers: China's $1.3bn VR theme park a world first (VIDEO)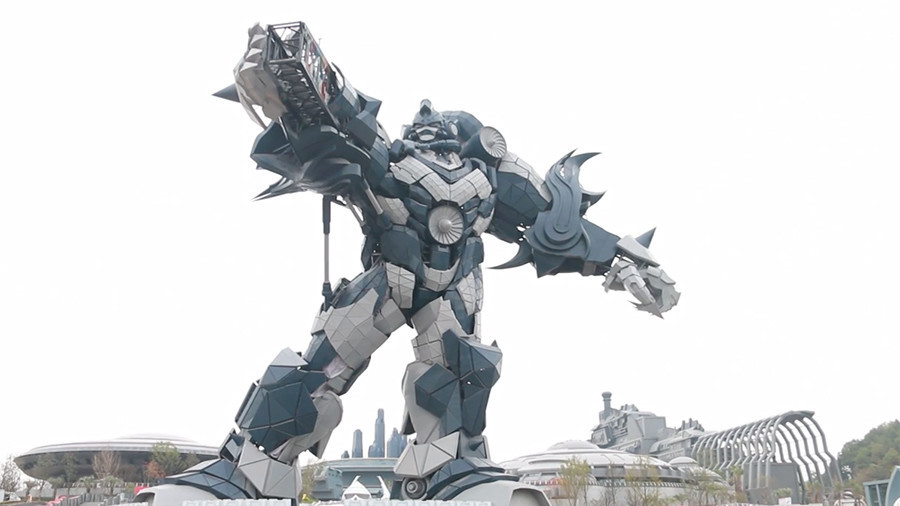 The world's first virtual reality theme park will finally open its doors to the public in southwest China this December, the company behind the project has announced – and footage of the facility does not disappoint.
READ MORE: Britain's Merlin to bewitch New Yorkers with Legoland theme park
The 'East Valley of Science and Fantasy' park is part of a more than $1.3 billion project being developed by the animation unit of Oriental Times Media in Guiyang, Guizhou. Set on a sprawling 320-acre site, the project will also house a VR movie-making studio as well as a media research and development center.
One particularly eye-catching feature is the 175ft Transformer statue towering over the facility. The robot, which is built from 750 tons of steel, the equivalent of two Boeing 747 jets, cost around $15 million to build. The park, which will open on a phased basis starting first with its Alien Base area, will also be home to China's first virtual reality rollercoaster.
READ MORE: Modern, weird or just ugly? China's most bizarre buildings: Top 10
The cost of the park could prove quite cheap when factored against the potential of VR in the future. In 2016, the VR market was worth around $2.7 billion, a figure that's expected to climb to $22 billion by 2020.
Including augmented reality, the total market could be worth around $108 billion by 2021, according to analysis by Digi-Capital. A study from CitiGroup, meanwhile, projects the total value of the AR market alone at $1.3trillion by 2035.
You can share this story on social media: