Astronomers snap 'intense' galaxy merger dating back 12 billion years (VIDEO)
Published time: 13 Nov, 2017 21:14
Edited time: 14 Nov, 2017 08:22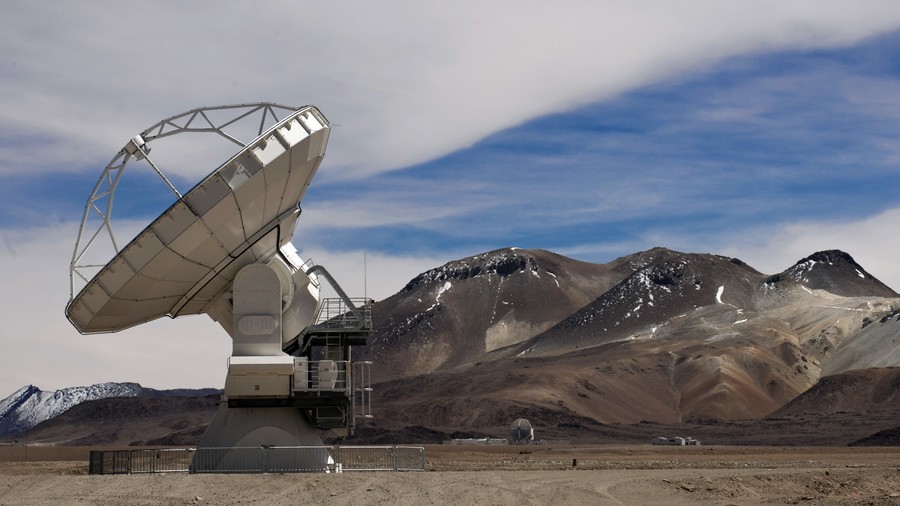 Astronomers believe they have peered back in time to the moment two massive galaxies began to merge into one. The scientists used both earth and orbital telescopes to aid their research.
The National Radio Astronomy Observatory (NRAO), which run the Atacama Large Millimeter Array telescope in Chile, announced the "never-before-seen" discovery of two colliding galaxies.
The phenomenon was initially observed by the European Space Agency's (ESA) Herschel telescope, before it was explored in greater detail by astronomers in Chile.
In orbit between 2009-2013, the ESA telescope initially observed the merge as a single red dot. The distance involved in viewing the so-called starburst galaxies – known collectively as ADFS-27 – means that astronomers are looking at formations as they were more than 12 billion years ago.
READ MORE: Planets aligned: Twitter users share incredible photos of Jupiter & Venus conjunction
Details of the find have been published in the Astrophysical Journal. The merger, located approximately 12.7 billion light years from Earth, is probably the most "intense" of its kind, according to Dominik Riechers, lead author of the research.
Pictures released by the NRAO and ESA show the elliptical shaped super galaxy's incredible brightness, which appears to be down to the high density of stars. It's thought the ADFS-27 system has around 50 times more "star-forming gas" as the Milky Way.
READ MORE: NASA-contracted Soviet-derived spaceplane Dream Chaser makes successful glide test (PHOTOS)
"Finding just one hyper-luminous starburst galaxy is remarkable in itself. Finding two of these rare galaxies in such close proximity is truly astounding," Riechers said in a statement.
"Considering their extreme distance from Earth and the frenetic star-forming activity inside each, it's possible we may be witnessing the most intense galaxy merger known to date."