Anti-Trump protesters clash with police ahead of US president's visit to Philippines (PHOTO, VIDEO)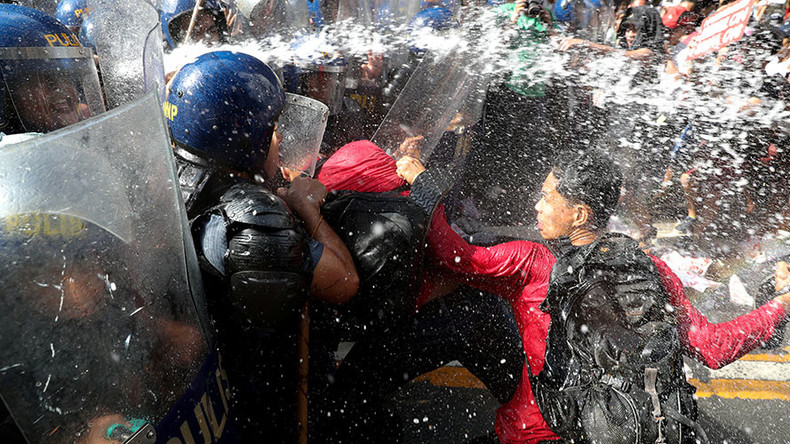 Police unleased a water cannon on protesters as a hundreds-strong anti-Trump rally in Manila turned violent. Clashes erupted just before the US president set foot on the island for a regional summit, wrapping up his 11-day trip to Asia.
Protesters were out in the streets of the Philippines capital, Manila for the second day in a row on Sunday. Crowds held banners reading "Dump Trump," and burned American flags in protest of US President Donald Trump's visit for the Association of Southeast Asian Nations (ASEAN) summit. Trump is also scheduled to meet with Philippines President Rodrigo Duterte.
Clashes erupted as demonstrators attempted to break through riot police lines to the US Embassy, according to local media. A water cannon was deployed to disperse the crowd and prevent them from reaching the embassy.


A local journalist posted pictures on Twitter saying some people were injured in the clashes.



Some protesters of a left-wing movement which campaigns against the US military presence in the Philippines – Bagong Alyansang Makabayan (BAYAN) – tried to break through police lines using street barricades, near the ASEAN 2017 venue in Pasay City, according to Ruptly video news agency.


"We will keep on fighting until we triumph over the imperialism that you are now pushing into our country. You are not welcome here in the Philippines," BAYAN Southern Tagalog spokesperson Peti Enriquez Bautista told Ruptly. She also called on Trump to "stop the war machine that you are pushing in every country."
Before his trip to the Philippines, Donald Trump met with world leaders at the Asia-Pacific Economic Cooperation (APEC) international summit in Vietnam and visited China, South Korea, and Japan. The 31st ASEAN regional summit, titled 'Partnering for Change Engaging the World,' runs from November 10 to 14.