Philippines' Duterte offers to host world summit on human rights amid notorious 'war on drugs'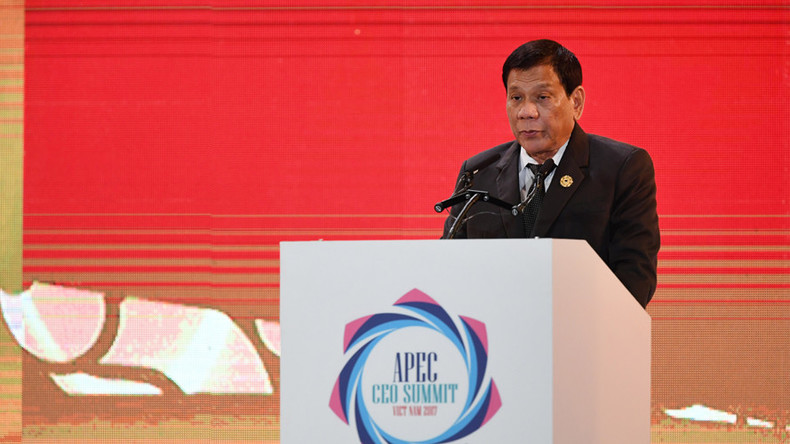 Philippines President Rodrigo Duterte, who has overseen a bloody 'war on drugs,' said Manila stands ready to host a world summit on protecting human rights. He suggested investigating all violations of human rights committed by international governments.
The Filipino strongman told a news conference, held at the Asia-Pacific Economic Cooperation meeting in Vietnam, that the summit should focus on human-rights violations not just in the Philippines, but across the world.
"Let's have a summit of how we can protect human rights for all [of the] human race," Duterte said late on Thursday, following a meeting with the Filipino community in Vietnam. "What makes the death of people in the Philippines more important than the rest of the children in the world that were massacred and killed?"
"Let us investigate all violations of human rights committed by all governments," Duterte said, as cited by Manila Bulletin. When asked if he would invite the United Nations to the summit, the Filipino leader said he would rather opt for lawyers and health experts. "I'm more comfortable with a panel of lawyers because they will understand the legal implications. And maybe experts in the science of medicine and the destruction of the human body."
Duterte said he also planned to invite United Nations human rights expert Agnes Callamard, and question her "obsession" with his drug war, while neglecting to address cases of violence in the Middle East.
Last December, the Duterte administration said Callamard was welcome to visit the country and conduct a probe into human-rights violations only if she agreed to meet several conditions, including allowing the president to ask her questions during a public debate. Callamard refused, but turned up in an unofficial capacity in Manila last May.
Duterte, who came to power on the back of his promise to defeat drug lords and prevent his country from devolving into a 'narco-state,' admitted in August that his nation had failed to fix the Philippines' drug problem due to lack of equipment, difficult terrain, and the brevity of his presidential term.
Duterte has long been under fire for alleged human-rights violations in his war on drugs. Filipino security forces and "unidentified gunmen" have killed over 7,000 suspected drug users and dealers since July 1, 2016, including at least 3,116 killings by police, Human Rights Watch said in July, citing government data.
You can share this story on social media: