Pyeongchang 2018 Olympics: 'Every fresh salvo from Kim or Trump ramps up chances of instability'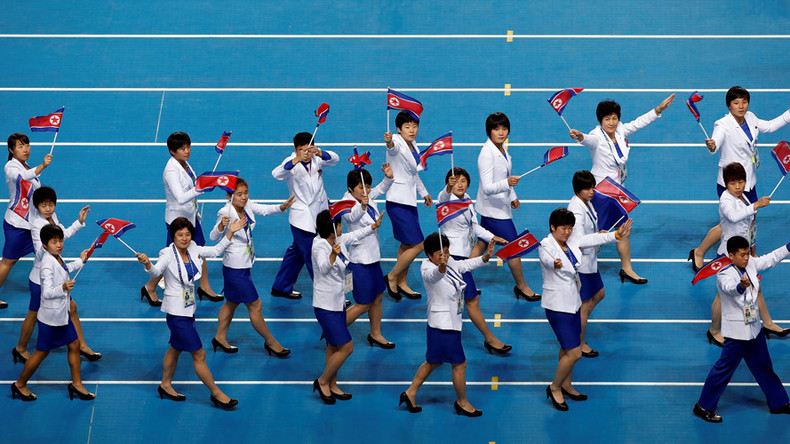 Every new salvo of rhetoric from North Korea or the US is exacerbating tension, increasing the chances of instability during the games and it doesn't help the athletes' emotional and psychological state, says Ellis Cashmore, professor at Aston University.
President Trump and Chinese leader Xi Jinping during their meeting in Beijing on Thursday agreed to cooperate over the situation with North Korea. China and the US also signed cooperation agreements worth over $250 billion in energy, car manufacturing, and plane building.
However, the problem of North Korea has been a critical concern for Donald Trump during his Asia trip. During a news conference in Beijing, the US leader urged all countries to stop doing business with Pyongyang.
He has also released a dramatic video, in which he argues North Korea is now the world's number one threat.
NoKo has interpreted America's past restraint as weakness. This would be a fatal miscalculation. Do not underestimate us. AND DO NOT TRY US. pic.twitter.com/4llqLrNpK3

— Donald J. Trump (@realDonaldTrump) November 8, 2017
The Korean Peninsula crisis is also being closely watched by the sports world, with the Winter Olympics in South Korea to start soon. The British Olympic Association said it's working on evacuation scenarios for its athletes, in case Pyongyang attacks the South during the games.
RT asked Ellis Cashmore whether there will be a significant impact on the next Winter Olympic Games in South Korea in the wake of tension with Pyongyang.
RT: Should more stringent measures be taken in Seoul in 2018? Do you think fewer people would want to buy tickets to the event?
EC: Every kind of fresh salvo from either Kim or from Trump is exacerbating tension. In other words, it ramps up this crisis. I am not sure, whether we're calling it a crisis – not yet. But it soon will be, I'm sure none of this helps the athletes' mood or there emotional, or psychological state – it increases the chances of instability during the games themselves. So none of this is helping.
What we also have to concede is that any sporting event nowadays, anywhere in the world – particularly major sporting events have security issues of one kind or another. It is simply not possible to stage a major event anywhere on the planet, where there is not a security threat.
In a sense, the Winter Olympics in South Korea is no different from any other tournament, any sport anywhere in the world. That is just the state of play in the 21 century. I am sure that the Olympic organizers are aware of this, and they have got every security measure in place; they probably have done as much as humanly and technologically possible to ensure the safety of the competitors and the spectators.
The big question is: is that going to convince the spectators? We know the players themselves, the competitors, the people who are participating for the medals – they will just say: "Yes – we're going, we're going to enter the games no matter what." But will spectators stay away? There has been no news from the organizers at the moment. I mean you would expect them to say: "Ticket sale is going phenomenally well." They have been unaffected by the political backstory, what's going on at the moment. We might expect them to say that. My informed guess at the moment is that the ticket sales are slow, because of this very reason. People are hesitant; they are insecure; they are not confident that this will be the games uninterrupted by political concerns…
RT: Is there a real threat coming from North Korea?
EC: The first thing to point out is that – the Olympic bust that Thomas Bach, the President of the International Olympic Committee, has already come out and tried to fire the first shot and say: "Everything is alright. It is under control. There is no threat." He said that about five or six weeks ago.
The second point we should make here is: what else is he going to say realistically? He has no way of knowing if there is any genuine threat or not – the same as the rest of us. I suppose what we can think is – this isn't exactly an encouragement to anybody who was thinking: "Shall I go to the Winter Olympics or not?" I am not sure if that is a crisis yet, but it is certainly a scare. This is not going to encourage them, let's put it that way. It is not going to motivate anybody or fill them with confidence about going to South Korea at the moment. It is very, very close – of course, it shares a border with North Korea. And we know North Korea is currently under sanctions from the UN. It is under threat from Donald Trump who says he will bring 'fire and fury' to them. There is a political crisis brewing there. Whether the Olympics themselves will be affected? I was going to say – nobody knows, but I think one thing is certain – there will be an impact, the precise impact at this stage, I wouldn't like to predict.
RT: France and Austria are both considering the possibility of staying away from the Olympics if the situation worsens. What's your take on that? And how might the athletes react to that?
EC: It is quite easy for countries to say: "No, we believe that there is too much of a real threat for us to risk our athletes, it would be irresponsible for us." We have to take into consideration that this would be an extraordinary unpopular decision from the athletes' perspective. Athletes themselves over the years have been, I want to say indifferent to political crisis, but they have tended to ride them out.
In other words, their view has been – traditionally at least – that sport and politics are essentially separate. I know they are not, but this is the view from the athletes' perspective. They would say: "We've worked; training and preparation for four or maybe be eight years" – maybe even longer. So they are working toward one goal. It is very difficult for them to say: "Well, there is a greater cause here. So we will sacrifice our own chances at an Olympic medal." And they sacrifice their four or eight years of hard work. Athletes tend not to take that view – they tend to say: "Well, politics and sport should be separate, so we're going to pursue what we want to pursue, and that is the gold medal."
'Reaction in South Korea to the games is disappointing'
The latest North Korea tension is going to have quite a bit of impact on the games, says sports news correspondent for The Sunday Times John Goodbody. It has already done so, because of the failure to sell a large number of tickets, he added.
"So far only about 30 percent of the 1.1 million tickets have been sold for the Winter Games. There were only just under a hundred days to go before the opening ceremony. You can say that the number of tickets being sold is - to put it mildly – disappointing," he told RT.
According to Goodbody, there are two reasons as to why it is disappointing.
"Firstly, there has been a slight drop in a number of foreigners wanting to come, partly because of the political situation in South Korea in the relations with North Korea. Secondly, more significantly – the lack of take-up on buying tickets by Korean residents. They have only bought 22 percent of the 700,000 which have been allocated for Korean residents," he said.
However, the latter might change once the new high-speed rail opens from Seoul to Pyeongchang, he said.
In Goodbody's view, it's unlikely that any country will refuse to take part unless the situation drastically worsens.
He recalled that there had been occasions before when South Korea was staging major events when incidents happened just ahead of them.
"One was in 1988 when they staged the Summer Olympics. The year before North Korea shot down a South Korean passenger jet, killing all the people onboard," he said. "Then in 2002 just before the FIFA World Cup, which is being staged in Russia next year – … when the World Cup was jointly staged by Japan and South Korea, there was incident with South Korea in the sea, when a South Korean warship was sunk."
"So there is certainly the possibility of problems. The British Olympic Association with who I was with a fortnight ago, have said that they have obviously got emergency measures in place. But at the moment the intention is for all countries to attend," he concluded.
You can share this story on social media: