Saudi Arabia v Iran: What's behind bitter feud between Middle Eastern powers?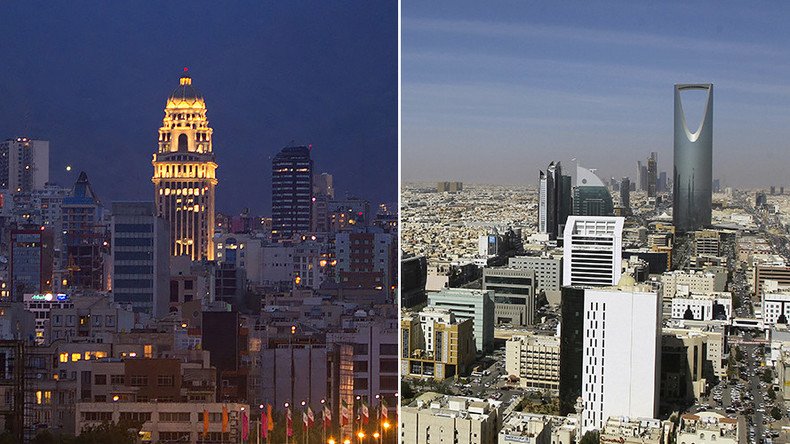 Tensions between Saudi Arabia and Iran are on the rise as the two states have engaged in a bitter war of words over Yemen, Lebanon and Syria. RT explores key current conflicts between the two and the possibility of a full-blown war between Tehran and Riyadh.
On Monday, Riyadh said that an attack targeting Saudi territory that was launched by Yemeni Houthi rebels on Saturday was in fact orchestrated by Tehran, and denounced it as a "clear act of aggression." It also used the incident to accuse Iran of "aggression that targets neighboring countries, and threatens peace and security in the region and globally."
READ MORE: Saudi Arabia eyes uranium extraction for 'self-sufficient' nuclear program – top govt official
In response, Iranian President Hassan Rouhani warned the Saudis of Iran's might, telling Riyadh on Wednesday that "those more powerful than you have failed to do anything against the Iranian nation." He also described the recent missile attack near Riyadh's international airport as "Yemeni people react[ing] to the bombardment of their country."
Regional conflicts
Riyadh and Tehran are engaged in a bitter dispute over Yemen, where the Saudi-led coalition is waging a military campaign against Shiite Houthi rebels in support of the ousted Yemeni President Abdrabbuh Mansur Hadi. Riyadh accuses Iran of supplying weapons to the Houthis, which Tehran denies, although it admits it backs the rebel cause.
In another recent development, Saad Hariri, the prime minister of Lebanon, abruptly announced his resignation, citing fears of assassination and accusing Iran and its local ally, Shiite militant movement Hezbollah, of a "desire to destroy the Arab world." Days after his resignation, Riyadh accused Lebanon of "declaring war" on Saudi Arabia by allowing Hezbollah "aggression" against the Gulf kingdom. Meanwhile, some Lebanese authorities claim Hariri is now being "held" in Saudi Arabia.
Syria has also become major playfield for the two regional powers. While Iranian forces came to assist and train the Syrian Army following the request of Bashar Assad's government, the Saudis have emerged as one of the main backers of the Syrian armed opposition groups. In April, Saudi Foreign Minister Adel Jubeir said that Iran has "no place in Syria or in any other part of the world."
The two states are also struggling for influence over neighboring Iraq. Tehran funded and trained the local Shiite militia, helping Iraq with its war on terrorism. The Saudis rushed to improve their relations with the Iraqi government, which had been damaged by Saddam Hussein's 1990 invasion of Kuwait.
The two old foes are also engaged in a bitter war of words over alleged links to terrorism. In May, Saudi Crown Prince Mohammed bin Salman al-Saud criticized Iran for its "extremist ideology" and ambitions to "control the Islamic world." Tehran responded by accusing Riyadh of "confrontational and destructive policies." It also claimed that it is Saudi Arabia that supports terrorist groups, including Islamic State (IS, ISIS/ISIL).
Deep-rooted disagreements
Some of the origins of the rivalry between Saudi Arabia and Iran are of religious nature and go back to a centuries-old doctrinal conflict within Islam: a more than 1,000-year-old argument between Sunnis and Shia.
Relations between the two countries have never been particularly friendly. However, their rapid deterioration could be traced back to the times of the Iranian 1979 Islamic Revolution, when a religious dispute was exacerbated by geopolitical and ideological differences.
The revolutionaries called for the overthrow of monarchies and their replacement with Islamic republics, raising concerns in Saudi Arabia and other Persian Gulf states, most of which are kingdoms. The leader of the revolution, Ayatollah Khomeini, questioned the legitimacy of the Saudi monarchy and accused it of protecting the interests of its Western allies rather than those of the Islamic world.
Relations between Tehran and Riyadh took another blow in 2011 during the Arab Spring, when Iran supported Shiite forces, while Saudi Arabia backed Sunni ones. In 2016, Riyadh severed diplomatic ties with Tehran after Iranian protesters set the Saudi embassy ablaze. The crowd was protesting Riyadh's execution of a prominent Shiite cleric, Sheikh Nimr al-Nimr, accused of inciting riots in the kingdom.
Outbreak of war 'not in Riyadh's interest'
The recent increase in tensions between Riyadh and Tehran is just a "war of words," Konstantin Dudarev, a Middle East expert and a specialist in Arabic studies, told RT, adding that Saudi Arabia's belligerent rhetoric is unlikely to be followed by real actions. The Saudi officials and particularly Crown Prince Mohammed bin Salman have repeatedly stated that Riyadh is not interested in war with Tehran, he added.
READ MORE: Saudi prince accuses Iran of 'extremist ideology,' ambition to 'control Islamic world'
"A war does not serve the interests of Saudi Arabia" as it declared "modernization and economic development its strategic goals," Dudarev said, adding that Riyadh would "do everything it can" to avoid an outbreak of conflict.
Udo Steinbach, a political analyst from the German Humboldt-Viadrina Governance Platform think tank, also doubted that the ongoing war of words between the Saudis and Iranians would lead to a real military conflict. However, he drew attention to the fact that the relations between the two regional powers have clearly deteriorated in recent months, which has negatively affected the political and security situation in the Middle East.
The analyst particularly said that the resignation of Lebanese PM Hariri, which he called "an indication of tense relations between the Saudis and Iran," could lead to the resumption of the Lebanese Civil War.
Kamel Wazne, a political analyst from Lebanon, believes that "the Saudis are not able to start a war against Iran unless [US] President Trump loses his mind and gets involved directly along with Israel in this war." Wazne also called Hariri "a victim" and "a hostage" of the rivalry between Tehran and Riyadh, arguing that the PM "does not believe that Lebanon is able to afford a regional confrontation."
You can share this story on social media: