China to complete 5th Antarctic station by 2022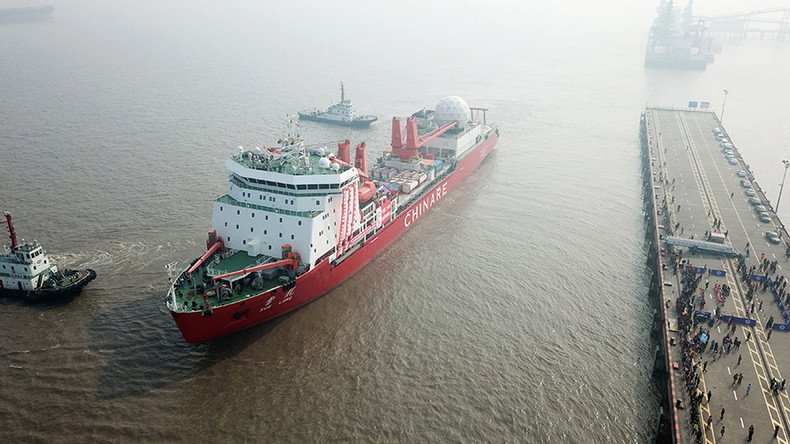 As Beijing seeks a greater role in the South Pole, Chinese icebreaker 'Xuelong,' is bound for Antarctica with construction materials in tow to build the country's fifth scientific research station on the continent.
The vessel set off from Shanghai on Wednesday and is due to arrive in New Zealand in around 18 days to stock up on supplies before heading on to Inexpressible Island in the Ross Sea of Antarctica's Terra Nova Bay. 'Xuelong' (Snow Dragon) will deliver 550 metric tons of materials to the site where its 334-person crew will lay the foundations for Beijing's new base.
"This time around, we will build a 206-square-meter temporary base, which includes rooms for workers and a dock for large engineering machines, to facilitate future construction work," Assistant Expedition Leader, Zhang Tijun told Asian News Network (ANN).
Located in an area with rich biodiversity, which makes it especially valuable for the scientists, construction is expected to be completed by 2022. The construction will meet all the international environmental protection criteria, according to Sun Bo, deputy director of the Polar Research Institute of China.
The Inexpressible Island project will become China's third year-round base and fifth overall on the South Pole and will see Beijing, which joined the Antarctic race only in the mid-1980s, equaling Washington's presence on the continent.
The five American stations, including three permanent ones, are currently equipped with dated hardware as the US Antarctic program faces financial constrictions.
As China continues on its quest to be a 'polar power,' Beijing continues to pour money into the continent, investing in stations as well as polar-capable aircraft and ships. 'Xuelong,' which was bought from a Ukrainian company in 1993, is currently the only active Chinese icebreaker, but domestically-built 'Xuelong 2' is expected to be put into use by 2019, according to Xinhua.
READ MORE: Dragon + Bear: China seeks Russia's help in mastering Arctic, sets sights on Antarctic
An international treaty classes Antarctica as a scientific preserve, with no country allowed to claim territory there. Such a status "provides a precious opportunity to quickly develop China's polar bases" on the continent, said Qin Weijia, director of the China Arctic and Antarctic Administration, as cited by AFP.
Although extraction of natural resources is banned at the South Pole for environmental reasons, some experts have expressed concerns that China's interest in Antarctica is driven by the hope of drilling there to meet the vast energy demands of its growing economy.
It also hasn't stopped Lin Shanqing, deputy director of China's State Oceanic Administration, from urging the country to speed up "polar prospecting and extraction equipment."
You can share this story on social media: