Holocaust victims' memorial stones uprooted in Berlin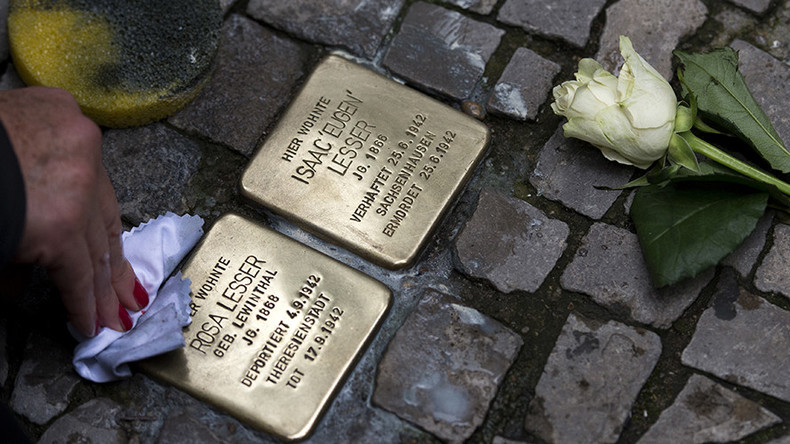 Multiple "stumbling stones" bearing names of people murdered or abducted by the Nazis were uprooted overnight in Berlin, German media report. Police are investigating, and some local politicians blame far-right extremists for the theft.
The Holocaust memorial stones were stolen from Berlin's districts of Neukoelln and Britz, the Berliner Kurier newspaper reported on Tuesday. Local residents reported more missing stones later in the day, prompting police to launch an investigation into the thefts.
Police said it is unclear who was behind the thefts, adding that detectives specializing in politically-motivated crime had been dispatched, according to Deutsche Welle. While the probe is ongoing, some local politicians have already linked the incidents to far-right extremists.
READ MORE: German neo-Nazis list Berlin's Jewish sites on anniversary of 1938 Kristallnacht pogroms
"If someone makes the effort to remove them, systematically picking out each stone, then they have political motives," a spokesman for Fritz Felgentreu, a Social Democrat MP, told Deutsche Welle. He noted there was "a strong far-right presence" in Neukoelln.
Local activists tweeted that the missing stones will be "replaced as quickly as possible." In another tweet, they thanked supporters for their "overwhelming response and numerous donations" since the theft was announced.
Wir bedanken uns für den überwältigenden Zuspruch und die zahlreichen Spenden, die wir seit gestern erhalten haben!!!

— Stolpersteine Berlin (@Stolpersteine_B) November 7, 2017
Invented by the German artist Guenter Demnig in 1996, memorial plaques the size of cobblestones are meant to remind passersby of the Jewish, communist, homosexual, gypsy and other victims of the Nazi regime. Sunk into pavements outside houses in Germany and beyond, the Stolpersteine – "stumbling stones" – are meant to immortalize the victims of Hitler's Germany. There are more than 60,000 stones laid down all over Europe.
Demnig laid the first Stolperstein in Cologne back in 1992, exactly 50 years after SS chief Heinrich Himmler directed the deportation of German gypsies to extermination camps. Over time, Demnig's concept has grown into one of the world's most renowned memorial projects.
Not everyone, however, is happy about the Stolpersteine project. Charlotte Knobloch, president of the Jewish Community of Munich and Upper Bavaria (IKG), argued in 2014 the stumbling stones are a desecration of the memory of the dead. Knobloch, herself a Holocaust survivor, insisted the victims should never be remembered with memorial plates dug into the ground.
You can share this story on social media: