From 'sons of bitches' to 'best friends': Duterte on US as Trump summit looms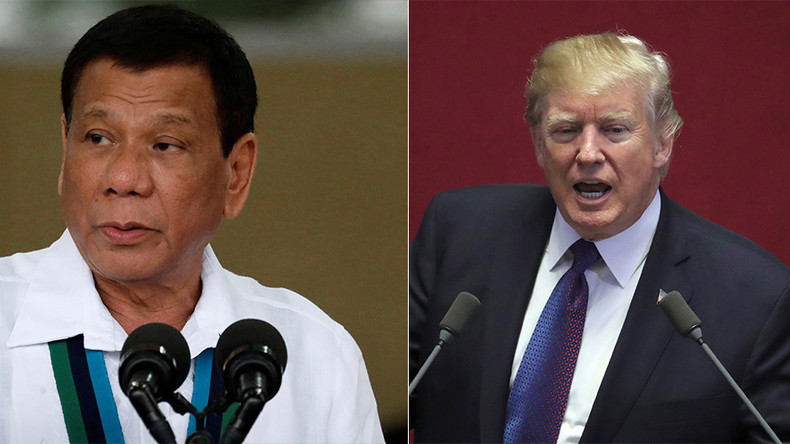 Philippines President Rodrigo Duterte has described the US as his country's best friend, a far cry from the long list of scathing remarks he previously made about America.
The turnaround comes ahead of Duterte's first face-to-face encounter with US President Donald Trump at Wednesday's welcome dinner for state leaders at the Asia-Pacific Economic Cooperation (APEC) Summit in Da Nang, Vietnam.
Despite previous virulently anti-American remarks, Duterte told Philippines marines on Tuesday that the two countries are close: "We remain to be the best of friends with America."
Duterte has never been shy to put the boot into his country's oldest ally, often cursing during at-times personal attacks
'Your ambassador is a gay son of a bitch'
In August 2016 Duterte called the former US Ambassador to the Philippines, Philip Goldberg "a gay son of a bitch," accusing him of interfering in elections.
He made the comment while recounting a conversation he reportedly had with Secretary of State John Kerry, where he remarked on an ongoing feud with Goldberg.
'Son of a whore, I will curse you'
The following month Duterte blasted the then-US president Barack Obama for criticizing his controversial crackdown on drug addicts: "You must be respectful. Do not just throw away questions and statements. Son of a whore, I will curse you in that forum."
"We will be wallowing in the mud like pigs if you do that to me," he added. Duterte later claimed he was referring to reporters who were not respectful during his speech.
'I am no American puppet'
Duterte continued his tirade against the US and Obama when declaring in September 2016 that he was answerable only to his own compatriots, saying: "I am no American puppet. I am the president of a sovereign country and I am not answerable to anyone except the Filipino people."
READ MORE: 'Tough-talking Philippine President Duterte no American puppet'
'He is a bigot and I am not'
Speaking about Donald Trump ahead of last year's US election Duterte rejected equations between him and the Republican leader, simply proclaiming: "He is a bigot and I am not."
'We have lots of explosives here'
After the US threatened to block the sale of about 26,000 assault rifles to Philippines police in November 2016, Duterte suggested the US shouldn't challenge him on the issue: "They're blackmailing me that they won't sell weapons. We have lots of explosives here."
He also laid down his intentions to turn to Russia for arms if the US would not provide the guns.
'Bye-bye America'
In December last year Duterte swiftly responded to what he believed was a US decision to scrap a major aid package over human rights concerns.
He labelled the Americans "sons of bitches" and vowed "tit-for-tat" retaliation, adding: "We can survive without American money."
"It ain't a one-way traffic...Bye-bye America."
'I've seen America and it's lousy'
After US lawmakers opposed the prospect of a Duterte visit to the White House last June, the leader bit back. "There will never be a time that I will go to America during my term, or even thereafter," he said. "I've seen America and it's lousy."
While relations may still be fragile, Duterte has tempered his comments during Trump's term. Speaking about the US in September he said he'd "rather be friendly to them now," admitting that he was advised by his Department of Foreign Affairs to tone down his language.
Duterte himself previously suggested his comments should be taken with a pinch of salt. "In every five statements I make, only two are true while three are just jokes," he said at a Bureau of Customs celebration in Manila last year.
Trump and Duterte are expected to follow Wednesday's meeting with a more comprehensive discussions when Trump visits Manila on November 31.
READ MORE: 'I'm your humble friend': Duterte makes U-turn on US in comment to Tillerson