'Tough-talking Philippine President Duterte no American puppet'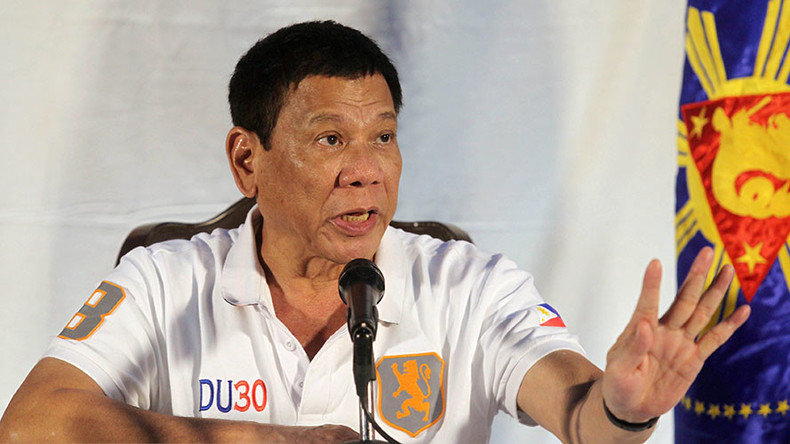 Philippine President Rodrigo Duterte's demand for sovereign respect between countries underscores the controversial idea that allies are satellites that must do as they are told, a concept that must be reconsidered, former US diplomat Jim Jatras told RT.
US President Barack Obama says he might have to reconsider a scheduled meeting with Philippines President Rodrigo Duterte after the latter swore at his US counterpart on camera.
The latest outburst Duterte came under harsh criticism for his heavy-handed crackdown on the drug trade in the Philippines.
Duterte has threatened to withdraw his country's membership of the UN if foreign officials keep telling him what to do.
RT: It seems the Philippine president isn't concerned about offending his top international allies. Why is this?
Jim Jatras: It is pretty clear that President Duterte is a man who feels free to speak his mind and doesn't sugar-coat it. It is also clear to me that there is some substance to what he says when he preceded his remarks with saying that he is not an American puppet, that Philippines is a sovereign nation, that he is responsible only to the people of the Philippines.
RT: Might Duterte be trying to send a warning to Barack Obama to stop US interference in his country's affairs such as the extra-judicial killings of drug dealers?
JJ: That's right. And I think he is going to turn up the heat. Let's remember, he declared a state of lawlessness in the Philippines under the constitution based on the bombing in Davao city where he used to be mayor. I think he is going to double down on his 'no-nonsense' policies. What some people would consider some very harsh policies. I don't think he is going to put up with a lot of criticism from President Obama and frankly from anybody else.
Renato M. Reyes Jr., political activist and secretary general of Bayan (an alliance of leftist organizations in the Philippines) commented on the Duterte's statement:

"I do not think Duterte was actually insulting the late mother of the US president. He was merely expressing how he would feel should the US try to intervene in the Philippines' domestic policy. It is something quite unheard of here in the Philippines since we haven't had any Philippine president standing up to the US. It wasn't really an insult directed at Obama personally, but it was rather an expression of his opposition to any form of American intervention in the Philippines. This is something the US is unprepared to deal with that is why the meeting between Obama and Duterte was probably cancelled. In the long run, the US hasn't really been helping the Philippines, it hasn't helped anyway in the claims in the West Philippines Sea (South China Sea) against China, it hasn't helped us to improve or develop our own military capability, it hasn't helped to improve our economy, so what are we really losing? Not much, we are not going to lose a lot of support or help from the US. In fact, this will provide the Philippines any opportunity to stand on its own two feet."
RT: How do you expect Washington to react to all these insults?
JJ: Not very well. Let's face it; awkward meetings seem to be President Obama's stock-in-trade. It seems that he was not particularly respected by his Chinese hosts at the G20. His meeting with President Putin was unproductive and described by most observers as 'icy'. I don't know that there is a whole lot of love and respect for Mr. Obama out there right now.
RT: How damaging could Duterte's foul-mouthed tirades be for US-Philippine relations?
JJ: I don't think it is so much the words and the tirades; it is the reality behind them. Washington has got to start coming to terms with what President Duterte is calling for: sovereign respect between countries, the idea that our so-called allies are satellites or just our clients that have to do what they are told is something that we are going to have to start rethinking in this country. This kind of relationship with countries like the Philippines - and frankly our other international partners - simply cannot go on as it has been.
The statements, views and opinions expressed in this column are solely those of the author and do not necessarily represent those of RT.