'I'm your humble friend': Duterte makes U-turn on US in comment to Tillerson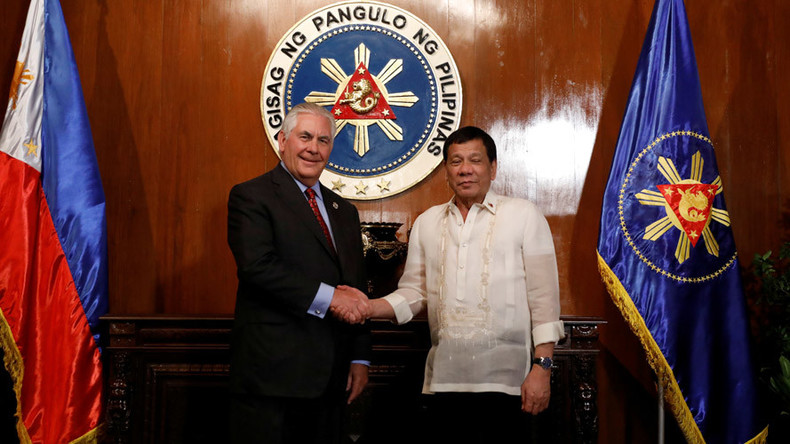 In an unusually soft tone, Philippines President Rodrigo Duterte has called himself a "humble friend" of Washington while meeting with Secretary of State Rex Tillerson. It comes despite Duterte recently calling the US "lousy."
"I am happy to see you...and you have come at a time when the world is not so good, especially in the Korean peninsula, and of course, the ever-nagging problem of the South China Sea," Duterte told Tillerson at the presidential palace on Monday, as quoted by Reuters.
The Philippines leader went as far as to state his country and the US are "friends" and even "allies."
"I am your humble friend in Southeast Asia," Duterte said.
Tillerson arrived in the Philippines on Saturday to participate in the Association of Southeast Asian Nations (ASEAN) Regional Forum, as well as to hold diplomatic meetings with the bloc's members and its dialogue partners.
Duterte's softer tone represents a change of heart from the leader's usual rhetoric. In fact, he called the US "lousy" less than three weeks ago.
"There will never be a time that I will go to America during my term, or even thereafter," Duterte said in late July.
"I've seen America and it's lousy," he added.
The comments came after US senators accused Duterte's domestic anti-drug campaign of widespread abuses and casualties - a move which prompted the leader to bite back, accusing Washington of its own violations.
"It would be good for the US Congress to start with their own investigation of their own violations of the so many civilians killed in the prosecution of the wars in the Middle East," Duterte said.
"Otherwise I will be forced to investigate you also. I will start with your past sins."
Those were far from the first anti-US remarks to be muttered by Duterte, who announced his "separation" from Washington last year.
"In this venue, your honors, in this venue, I announce my separation from the United States," he told an audience of Chinese and Philippine business people in October 2016.
However, he appeared to backtrack just one day later, saying Manila would not be triggering a severance of ties.
Duterte has also taken aim at former US President Barack Obama on multiple occasions, including in May - four months after he had left the White House.
"It came to a point that repeatedly Obama said [this], the State Department said [this], and everybody there was an idiot," Duterte said, while recalling Obama's approach to negotiations with the Philippines.
"So we go, 'You can go to hell. You can eat your assistance; we do not need it; we will survive.' So I go, from now on, I will adapt an independent foreign policy and I will deal with any country that I like," he added.
The Philippines leader called Obama a "son of a b**ch/whore" in September 2016, prompting the former president to cancel a planned meeting with him. However, Duterte later backtracked and said the comment was directed at a reporter.
Meanwhile, Duterte also warned the US last year not to treat his country like a "dog on a leash," while adding that he didn't want to see American troops in the Philippines.
The leader seems to be more at ease with Donald Trump in the office than Barack Obama, and has previously spoken positively about the president, saying in April that Trump wouldn't have become a billionaire if he was "stupid."
"Trump is a deep man, he just pretends otherwise. Like me, I'm not really very bright."
Trump, for his part, has praised Duterte for doing an "unbelievable job on the drug problem," while the Philippine leader's so-called 'war on drugs' has led to the deaths of more than 8,000 people and been slammed by the European Union and United Nations, among other critics.