Mid-air affair: Enraged woman forces plane to land after 'discovering her husband cheated'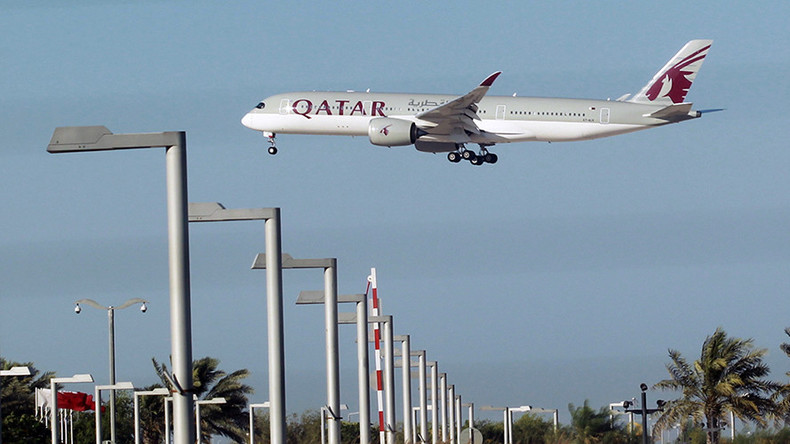 Being tens of thousands of feet above the ground didn't stop an "intoxicated" Iranian woman from creating uproar aboard a plane. It was forced to divert after the woman discovered that her husband was cheating on her, Indian media reported.
The incident took place on a Doha-Bali Qatar Airways flight on Sunday, an officer of the Central Industrial Security Force (CISF) told the Hindustan Times newspaper on condition of anonymity.
READ MORE: Bloodied man tied up by passengers after fear of flying leads to extreme drunkenness (VIDEOS)
The Iranian couple were on a trip to the Indonesian beach resort of Bali with their child when they were on the flight. The woman checked her sleeping husband's phone after unlocking it with his fingerprint and learned the unpleasant truth. She immediately became furious and began making a scene.
The crew reportedly tried to calm the woman but that only made matters worse. The flight was to last 10 hours but the pilot decided to make an unscheduled stop as the situation spiralled out of control.
"The [flight] was diverted to [the Indian city of] Chennai after the pilot requested for it, citing an unruly passenger on board as the reason. The woman and her husband, along with their child, were offloaded and the flight departed for Bali," the officer told HT. The family spent the day at Chennai Airport and were later sent to Kuala Lumpur, Malaysia, he added.
READ MORE: Boombox bash: 5 women brawl on Spirit Airlines flight over loud music (VIDEO)
Another CISF official told the Times of India newspaper that the Iranian couple headed back home without ever reaching Bali. They were transported to Malaysia and were subsequently sent to Doha.
"A lady, along with her husband and a child – all Iranian nationals – were offloaded by Qatar [Airways] as the lady passenger, who was intoxicated, misbehaved with crew members on the flight. They were sent to Kuala Lumpur by Batik Air flight 6019 for further travel to Doha," he said.