Boombox bash: 5 women brawl on Spirit Airlines flight over loud music (VIDEO)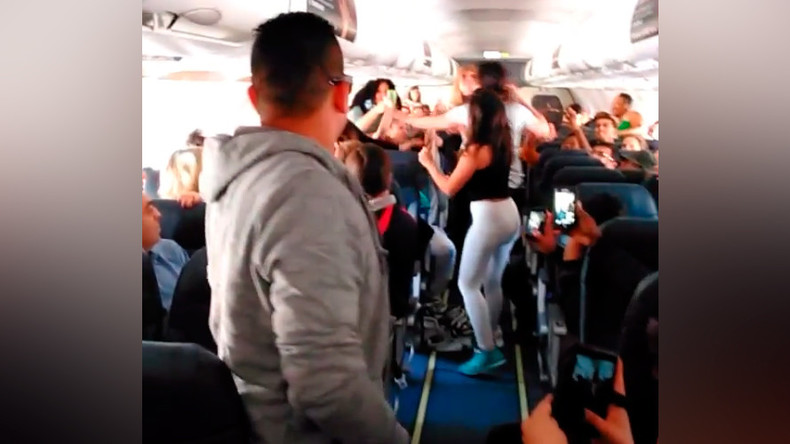 A five-woman fight erupted on board a cross-country Spirit Airlines flight, after two drunk women played their boombox too loudly, much to the annoyance of fellow passengers.
On board the Spirit Flight 141 from Baltimore, Maryland to Los Angeles, California on Wednesday, several passengers asked the two women to turn down the music they were playing, but they refused.
Like John Cusack in the classic 'Say Anything,' the women then hoisted the boombox into the air and turned the music up.
"To provoke the other customers they were holding up their boom box in the air, waving it around," Paul Berry, a spokesperson for Spirit Airlines, told the LA Times.
READ MORE: In-flight fist fight: Airplane grounded following mid-air cabin crew brawl
A second group of passengers approached the women, which is in when slaps were thrown and hair was pulled, much to amusement and shock of the other passengers, some of whom filmed the melee.
One woman can be seen falling to the ground before returning to her feet and going back for seconds, dragging another woman by the hair.
The crew was eventually able to break up the fight. Police in Los Angeles met the plane on the runway and took the women into custody.
The Federal Bureau of Investigation was asked to investigate what authorities described as a "mutual combat situation."
In the end, none of the women was charged with any offense.
While most passengers were relieved to be allowed off the plane unharmed, there were some who found themselves feeling like Barney Stinson.