15 German police injured dispersing Kurdish rally with banned PKK flags (PHOTOS, VIDEOS)
Published time: 5 Nov, 2017 04:20
Edited time: 6 Nov, 2017 12:04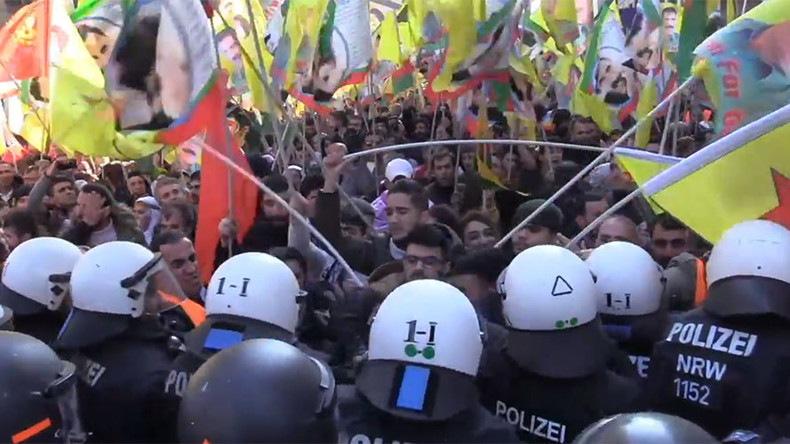 Police deployed pepper spray and water cannons against a crowd of Kurdish demonstrators in the western German city of Dusseldorf after they refused to lay down portraits of a jailed leader of the Kurdish Workers' Party (PKK), which is outlawed in Germany.
Fifteen officers and at least three demonstrators were injured in the scuffles that ensued after the police moved to disperse a rally, Spiegel reports, citing police.
According to police estimates, some 6,000 Kurdish activists took to the city streets on Saturday to demand the release of Abdullah Ocalan, the leader of the PKK, chanting slogans for his freedom. Ocalan, one of the founding members of the PKK, is serving a life sentence in Turkey.
The PKK is considered a terrorist entity in Turkey, Germany and elsewhere in the EU, as well as in the US. Displaying its symbols, as well as images of its leader, is prohibited, but many protesters were still carrying banners and placards featuring Ocalan.
Police said they had repeatedly warned those gathered to roll up the outlawed imagery if they wanted the rally to go ahead. The spokesman for the demonstrators, however, argued that police provoked the clashes, insisting that they first encircled the rally, impeding the passage of demonstrators.
After police ordered the rally to wrap up, demonstrators reportedly started throwing bottles and assaulting officers with flagpoles. In response, the police used pepper spray and water cannons, rounding up defiant demonstrators and shoving them to the ground.
Ruptly footage from the scene shows several people needing help after apparently being sprayed by police.
Five people were taken to custody as result of the clashes and dozens identified, RP Online reports, citing police.
Kurdish communities in Germany and across Europe frequently stage mass protests against the government of Turkish President Recep Tayyip Erdogan, accusing it of persecution of the Kurdish minority in the southeast of the country, where it is embroiled in a decades-old military conflict with the Turkish forces. The conflict is estimated to have claimed some 45,000 lives since it broke out in the late 1970s.