'Magic island-maker': China unveils Asia's largest cutting-edge dredger amid territorial rows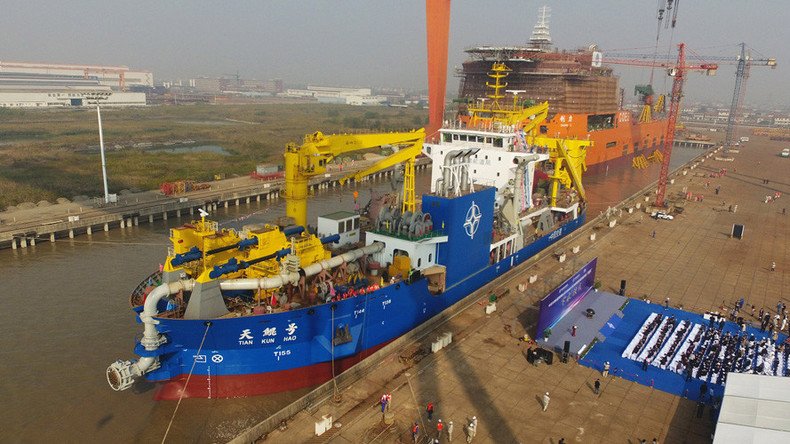 China has floated out a giant island-building vessel, which has been called "a magic island-maker" by its designer and is considered the most powerful vessel of its type in Asia. The launch comes amid ongoing territorial disputes in the South China Sea.
The 'Tiankun' cutter-suction dredger was launched at Qidong in eastern Jiangsu province on Friday. The vessel, with a deck as long as five basketball courts, 140 meters, can smash underwater rocks and then suck out sand, water, and mud, and transfer the substance up to 15 kilometers away. It can dredge up to 6,000 cubic meters (around two and half Olympic swimming pools) an hour from a depth of up to 35 meters.
China has launched Asia's largest and most advanced cutter-suction dredger to further enhance the nation's capability in land reclamation. pic.twitter.com/U9zbjtbAOo

— China Daily (@ChinaDailyUSA) 4 ноября 2017 г.
"The electronic vessel is able to dredge an area the size of a soccer field with a depth of one meter within one hour," Wang Jian, deputy chief engineer of CCCC Tianjin Dredging, said as cited by Xinhua news agency.
The designer of the vessel, Marine Design and Research Institute in Shanghai, describes its creation as "a magic island-maker" that could be used to conduct coastal or channel dredging and land reclamation operations at sea, China Daily reported, citing the institute's statement.
Some local media said the vessel was a "military defense project" which could be used for the construction of artificial islands in the disputed South China Sea, where Beijing has territorial disputes with Japan, Vietnam, the Philippines, and other nations.
READ MORE: Japan may deploy new Marines force alongside Americans amid islands face-off with China
The dispute over the area involves the Spratly and Paracel Islands, which are also claimed by the Philippines, Vietnam, and Taiwan. Earlier, China was reportedly boosting construction on the artificial islands it has built on the Spratly archipelago, where it was preparing to station warplanes and other military hardware.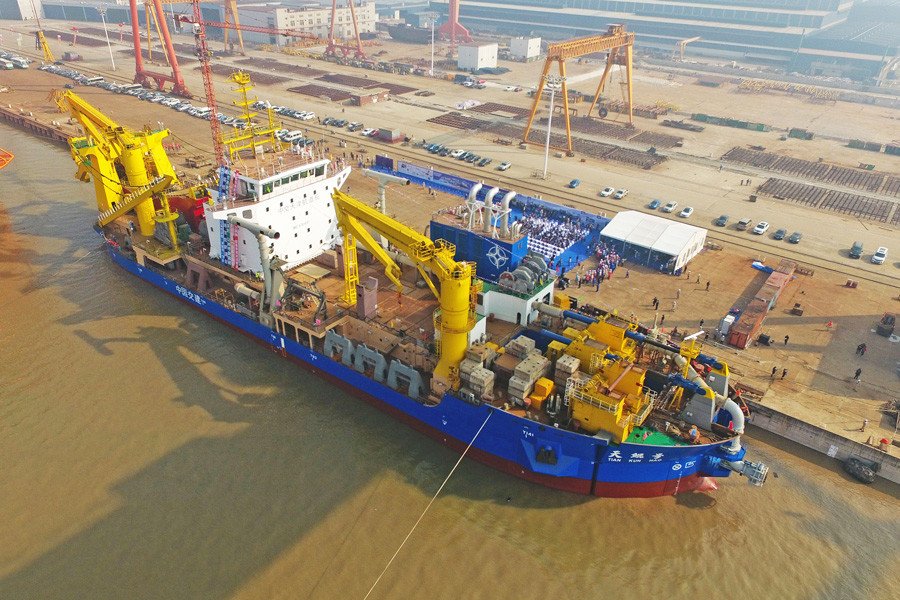 Washington has been particularly critical of China's construction activity in the disputed Spratly chain. Beijing has responded by saying that it is operating on its own sovereign territory and thus has the right to deploy military assets there.
The Tiankun will undergo more mooring and sailing tests and is expected to enter service next summer. It is the first fully domestically-built self-propelled dredger of its type in China, as its sister, the largest currently operating dredger in the region, the 'Tianjin,' was jointly created by Chinese and German engineers. It can dredge 1,500 cubic meters an hour less than the newly launched vessel from 30 meters beneath the surface.
You can share this story on social media: