Talk to 'dangerous man' Kim Jong-un to avoid nuclear war, Duterte tells world leaders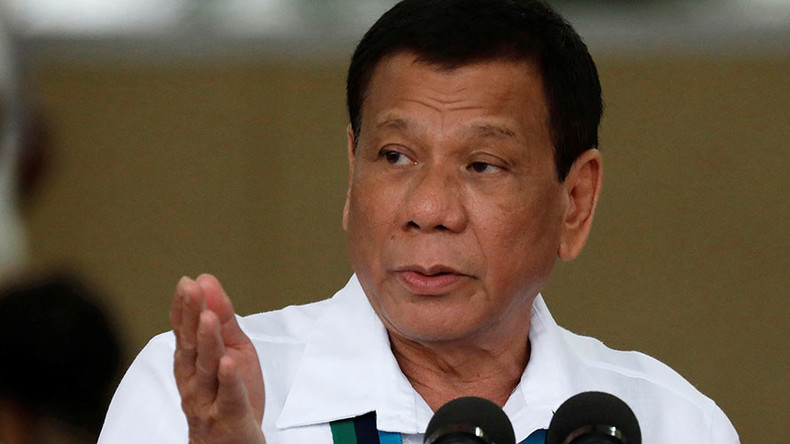 Someone has to talk to North Korean ruler Kim Jong-un and assure him there are no plans to oust him from power, Philippines' firebrand President Rodrigo Duterte has said. Direct talks to the "dangerous man," he argued, will help avoid a nuclear war.
The US, Japan, China and South Korea should reach out to Kim and assure him there is no immediate threat to him or his country, Duterte said Monday night before leaving for Tokyo.
"You must remember that he is a leader of his people," the Philippines president said, as cited by AP.
"Whatever he proclaims himself to be, somebody has got to talk to him," he added. "So, if somebody could just reach out, talk to him and say, 'My friend, why don't you just join me in the table and we'll just talk about these things?'" Duterte said. "Nobody's talking to him."
Branding Kim "a dangerous man," Duterte reiterated that "somebody has to go there,"according to the Philippine Daily Inquirer.
The outspoken president said North Korea's nuclear program will be high on the agenda during the November talks with President Donald Trump. "The opening agenda would be North Korea. We are worried, all of us, that if anything can go wrong, it will go wrong," he said, as cited by the Philippines ABS-CBN broadcaster.
"A nuclear war is totally unacceptable to everybody," Duterte added. "Tell him [Kim Jong-un] that nobody's threatening him, that there would be no war and that if you can just tone down or stand down, stop the threats, and that would be the same for America."
He said the only "country that can calm him down is China." Earlier, the Philippines president, who is known to be very blunt, referred to the North Korean leader as a "fool" and "son of a b*tch," who is "playing with dangerous toys."
'I'll deal with Trump in most righteous way'
Duterte, who has been notoriously critical of the US, has said he would welcome US President Donald Trump "as an important leader" when the two heads of state meet in November.
"I would deal with President Trump in the most righteous way, welcome him as an important leader," Duterte told journalists ahead of his visit to Japan, where he is scheduled to meet with Prime Minister Shinzo Abe. "I would have to also listen to him, what he has to say," the Philippines leader said, as cited by Reuters.
Duterte said he expects to discuss issues such as "terrorism, cooperation between the two countries [and] the fight against drugs" during his meeting with Trump. However, earlier, the US Ambassador to Manila, Sung Kim, told reporters the two leaders would also likely discuss human rights and the rule of law, which remain controversial issues in light of Duterte's debatable war on drugs policy.
READ MORE: Change of heart? Duterte praises US as important ally, says will 'avoid cursing'
The outspoken Philippines leader has, in the past, not held back from criticizing the US. A year ago, he announced a "separation" from the US in favor of realignment with China. Later, Duterte slammed Washington for treating his country "like a dog." In July this year, he called the US "lousy" and vowed that he would "never" go to the US during his term, "or even thereafter."
However, three weeks later, the very candid Philippines leader had a sudden change of heart, calling himself a "humble friend" of Washington while meeting US Secretary of State Rex Tillerson. He also seems to have better relations with Trump than he had with Barack Obama.
Duterte called Trump a "deep man" and claimed he wouldn't have become a billionaire if he was "stupid." Trump, in his turn, praised the Philippines president in May for doing "unbelievable job on the drug problem" despite criticism of Duterte's brutal drug crackdown by human rights groups.
In late September, Duterte once again confirmed his readiness for a new policy in relations with Washington by praising the US as an important security ally. He described all his previous anti-US tirades as "water under the bridge."
Trump is expected to land in the Philippines on November 12 for a two-day visit as part of his Asian trip, scheduled for November 3-14. He will be in Manila after visiting Japan, South Korea, China, and Vietnam.