6 killed, emergency declared as heavy storm Herwart batters Central Europe (VIDEO, PHOTO)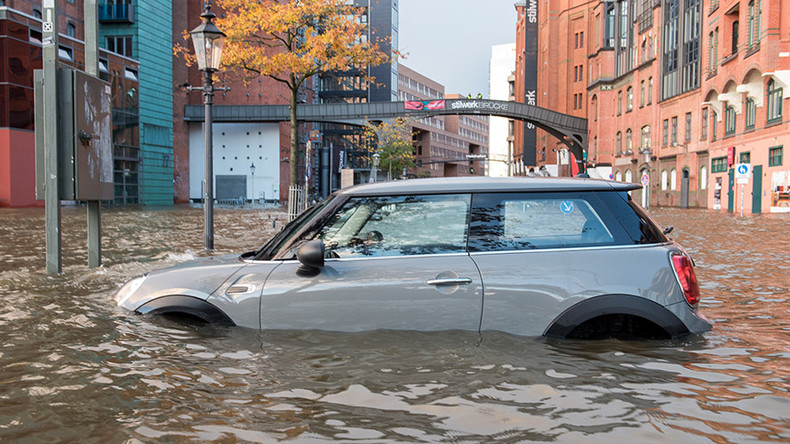 Storm Herwart has caused major traffic disruptions, floods and chaos across Central Europe. Powerful gusts of more 100 km/h uprooted trees and damaged public infrastructure, killing several people in the Czech Republic, Poland and Germany.
Two people died in Poland and two in the Czech Republic, all four hit by falling trees. Poland's meteorology institute issued gale warnings for as many as 11 provinces and said wind speeds there could reach 140 km/h, Radio Poland reports. Thousands of homes in the Czech Republic and Poland were left without power as a result of the storm.
In the German state of Lower Saxony, a 63-year-old camper drowned as flooding caught him by surprise. Another woman drowned when her motorboat overturned in the state of Mecklenburg-Vorpommern, German media reported. In Bavaria, a train collided with an uprooted tree leaving the train driver and a crew member injured, German media report, adding that the passengers were unharmed.
In Hamburg, a major city in Germany's north, strong winds uprooted trees and caused flooding. Local fire brigades have been scrambled 550 times to respond to emergency calls, the Hamburger Abendblatt newspaper reported.
Storm Herwart also disrupted railway services in Germany's northern regions. Deutsche Bahn, Germany's major railway company cancelled inter-city trains, with some commuter train services leading to and from Hamburg canceled or delayed. Torrents of water have also flooded main public spaces in Hamburg, including the Hafencity, the Fischmarkt (fish market) and Blankenese.
In Berlin, emergency services declared a state of emergency Sunday morning as Herwart swept across the German capital. One person was seriously injured when scaffolding from a construction site fell on him, Deutsche Welle reported.
The fire brigades said in a tweet that they had responded to 125 emergency calls, with 75 more callouts to follow. "There's currently a danger in the entire Berlin area due to falling trees and objects. Please be especially careful on this stormy Sunday morning!" the fire service tweeted later in the day.
Earlier, storm Grischa swept across the state of Thuringia. Trees and fences collapsed and roofs were damaged by strong gusts. 'Grischa' has also affected railway services, with Deutsche Bahn cancelling services in large parts of central Germany.