83yo fraud victim robbed by Moscow policeman who came to her 'aid' (CCTV VIDEO)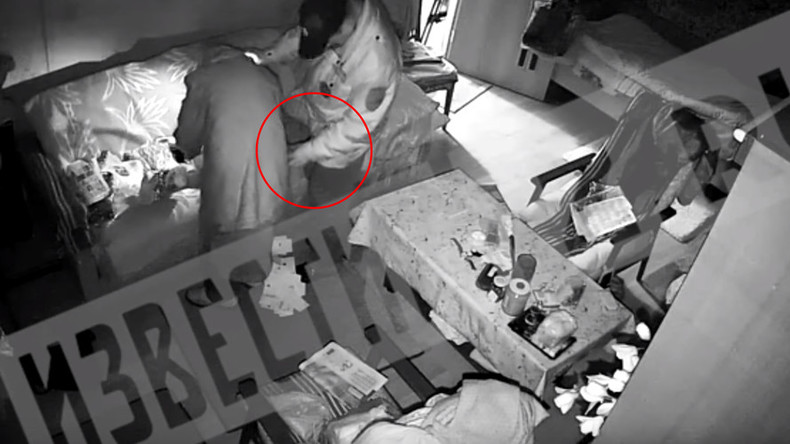 An 83-year-old Russian woman has been shamelessly robbed in her own apartment by a policeman who came to her 'rescue' after fraudsters tried to swindle the victim out of a substantial sum of cash she was saving for a "rainy day."
Earlier this week, a pair of con artists rang the doorbell of the 83-year-old Moscow resident. Introducing themselves as friends of the would-be victim's sister, the scam artists told the grandmother that her sibling needed urgent and expensive surgery.
The swindlers then waited outside while the old lady hastily raked up all the cash she had in her house, which according to relatives, was "saved for a rainy day."
As the victim of the scam rushed to hand over the money to the fraudsters, the concierge of the building stopped her to inquire as to what was happening. After the woman explained that she's rushing to save her sister, the concierge suspected something amiss and called her relatives. They assured the old woman that her sister was alright and in good health.
The concierge immediately called the police. They quickly arrived and escorted the old lady back to her apartment, where the second act of the shameful episode played out.
Unbeknown to the policeman-turned-robber, the pensioner's house was filled CCTV cameras that were installed by her relatives to keep an eye on the elderly lady living on her own. As the crime unfolded, her sister watched live via the CCTV cams how the 83-year-old victim was being robbed by the officer of "around 40-50 thousand rubles."
In the footage, the policeman is clearly seen distracting the woman with questions. As she leans over to look for something on the sofa, he carefully lifts a plastic bag full of cash out of the right coat pocket of his victim, accidentally dropping the money on the floor. He then picks up the heap of cash and stuffs it in his pocket while the woman is still looking away.
Nuns on the run: 2 raiders in religious garb flee bank after botched robbery
Shocked at the disgraceful actions of the police, her relatives saved the CCTV footage and passed it on to the authorities, the Federal Security Service (FSB) and the Interior Ministry. Moscow police immediately dismissed the officer, while an investigation has been launched into the case.