Thousands take to streets in Malta to demand justice for slain anti-corruption journalist (PHOTOS)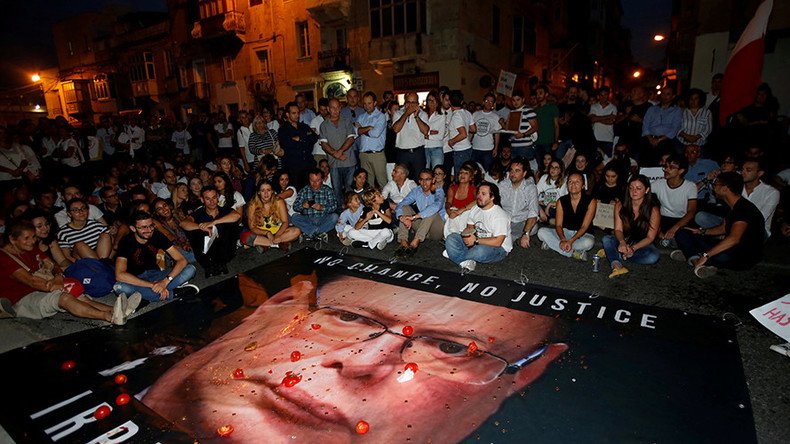 Thousands of people poured into the streets of the Maltese capital, Valletta, on Sunday to voice their indignation over the death of a prominent investigative journalist, known for exposing state corruption, who was killed by a car bomb last week.
The government on Saturday announced a €1 million reward for information which can help to trace the suspects in the death of Daphne Caruana Galizia, Malta's best known investigative journalist and the author of a hugely popular blog, which she used to shed light on shady dealings of high-ranking officials, including the country's prime minster, and, in particular, their alleged offshore dealings unveiled in the Panama Papers scandal.
The demonstrators were marching through the streets, carrying banners that quoted the last words the journalist ever wrote in her blog: "There are crooks everywhere you look now. The situation is desperate."
Some were wearing white T-shits with the same words emblazoned on them. Protesters demanded that justice is served in the case of Caruana Galizia, accusing police of falling short of finding any clues in the ongoing investigation and failing to ensure the safety of the journalist in the first place, and more broadly, freedom of speech.
The demonstrators called on police commissioner Lawrence Cutajar to quit, brandishing signs that read: "No justice without change." A huge portrait of Cutajar with the slogan was pinned to a fence outside the Court of Justice.
At one point in the rally, demonstrators managed to mount a placard reading "Mafia state" on the governmental building's stone wall, as the crowd was shouting "Mafia, mafia, mafia!" calling out the government for alleged corruption.
As night fell, people laid flowers and candles to a makeshift memorial for Caruana Galizia at the foot of the monument commemorating the Great Siege of 1565, when the Maltese people managed to repel a siege by the Ottoman Empire.
Addressing the crowd, Christophe Deloire, secretary-general of Reporters without Borders, drew parallels between the assassination of Galizia and the January 2015 attack on Charlie Hebdo magazine.
"You remember, we gathered, almost three years ago, in Paris, after the Charlie Hebdo killing. We have gathered today in Valletta for Daphne and everybody can say 'I am Daphne, je suis Daphne,'" he said, as quoted by AFP.
Last week, WikiLeaks editor Julian Assange offered his own bounty of €20,000 for leads to her murderers, calling her killing a "barbaric act."
You can share this story on social media: