Guns & explosives cache found in Kiev during turbulent mass protest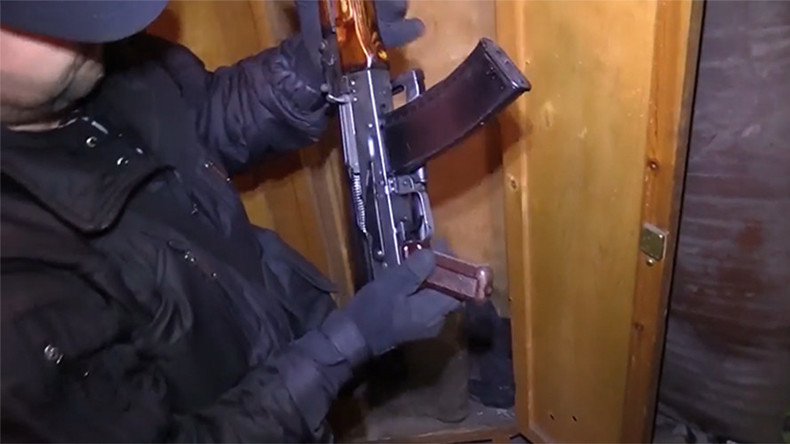 The Ukrainian police force has reported finding a cache of assault rifles, ammo and explosives in the capital Kiev. Security officials say the weapons could have been used during Tuesday's mass protest in the city center.
The weapons were discovered during an ongoing investigation, according to a statement from the deputy head of Ukraine's national police, Vyacheslav Abroskin.
Footage of the bust, uploaded to the police's YouTube channel, shows an AK-47 assault rifle, several bags of ammunition and disassembled hand grenades stashed away in a garage.
"The searches continue," Abroskin said, touting efforts by the Ukrainian police and national security service (SBU) to prevent "actions aimed at destabilizing the situation in the country."
The weapons could be intended for use during Tuesday's protests in central Kiev, according to SBU deputy head Viktor Kononenko.
Read more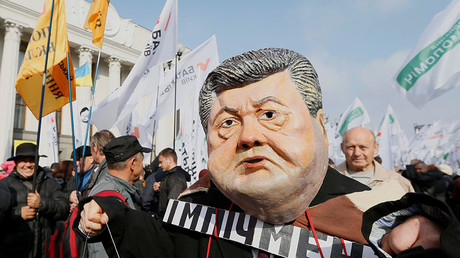 During the original Maidan protests in 2014, numerous firearms found their way to the hands of militant rioters, many of them members of far-right groups such as the Svoboda (Freedom) party. Some of the same political forces were seen in central Kiev on Tuesday, again protesting the policies of the current Ukrainian authorities, which the 2014 coup brought to power.
Tuesday's protest was called by Mikhail Saakashvili, the former president of Georgia and ex-governor of Ukraine's Odessa region and also former friend of Ukrainian President Petro Poroshenko – until Saakashvili started calling him out on corruption and demanding that his "gang" be ousted from power. Poroshenko stripped Saakashvili of his Ukrainian citizenship in July.
The rally, attended by some 6,000 people, called for parliamentary immunity to be revoked and for reforms to the electoral system. Protesters put up tents, set up cordons and faced off with riot police.
READ MORE: Ukraine has a Nazi problem and a Western media problem
The SBU "clearly understands" who is behind the weapons cache, Kononenko said, adding: "I believe that during the investigation, the individuals will be identified and their guilt will be proven."