'Kill Baby Hitler': Magazine's tweet on soon-to-be Austrian Chancellor Kurz triggers terrorism probe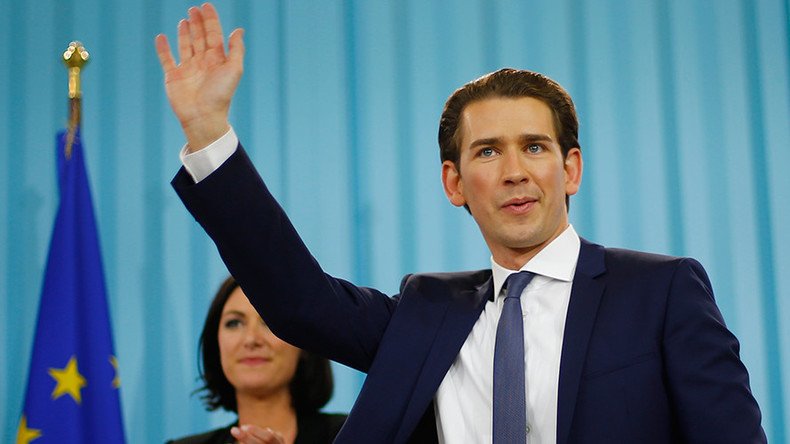 A German-based satirical magazine landed in hot water when Austrian counterterrorism authorities launched a probe into a controversial tweet, which branded Sebastian Kurz, who is set to be the next Austrian chancellor, "Baby Hitler" and urged people to "kill" him.
READ MORE: Sebastian Kurz, most talented Austrian leader since WWII, will toughen immigration laws – analysts
The tweet by the German satirical magazine Titanic came a day after the center-right People's Party (OVP), led by the prominent Austrian politician Kurz, 31, came in first during the country's general elections.
The tweet features a photo of Kurz with a crosshair sign over his heart and a caption reading: "Finally possible: Kill baby Hitler." The left corner of the picture reads "Time travel in Austria" in an obvious pop-culture reference to the decades-old thought experiment on going back in time and killing Hitler before his atrocities were ever committed.
READ MORE: Rise of the right: Austria's election results & their implications for Europe
The caption, however, obscurely addresses "Austrian Titanic subscribers," giving a link to the magazine's subscribe page.
The controversial picture promptly drew the attention of law enforcement. The Vienna police replied to Titanic's tweet, stating that it had already alerted unspecified "competent authorities."
The photo was sent for investigation to anti-terrorism units and an investigation was launched, the police told Der Standard newspaper.
The satirical magazine did not back down lightly though, jokingly replying to the police tweet and calling it "Vienna department for time travel."
Titanic's head editor, Tim Wolff, told the local Meedia news outlet that the strong reaction of the Austrian authorities can be explained by the country not getting over its Nazi past, unlike the Germans. The magazine has not yet been directly contacted by Austrian investigators, according to Wolff.
You can share this story on social media: