Locals told to not mind armed men as 3,500 troops take part in 'Silver Arrow' NATO drills in Latvia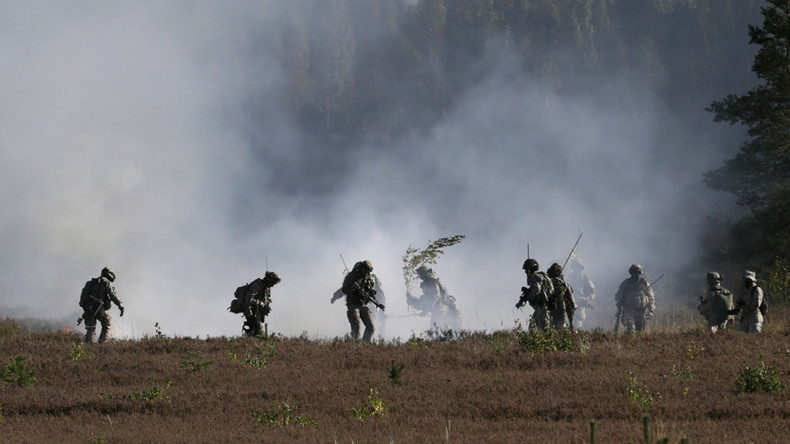 More than 3,500 troops from countries ranging from Albania to the US, UK, and Germany are taking part in Latvia's two-week NATO Silver Arrow drills. The exercises will partly take place on private land.
The aim of the exercises is to "boost the interoperability of National Armed Forces and the Allied troops," the Latvian Defense Ministry said, adding that another goal was to conduct "integrated joint planning, defense operation and combat support element training."
The exercises initially began as national drills, but in 2014, "numerous Allied and partner countries decided to join the exercise and it became multinational," the ministry said on its website.
Soldiers from Spain, Poland, Slovenia, Albania, Estonia, Italy, Latvia, and Canada will be taking part in the drills through October 29. Around 200 guardsmen and 30 reserve troops from Latvia will also participate, LETA news agency reported.
The drills will take place across private land in agreement with landowners, with members of the public asked to remain calm and cooperate if they come across personnel and equipment on the move, lsm.lv news outlet reported.
Last week, NATO launched a new multinational force in Romania, in a move said to counter Russia along its eastern flank and to keep close tabs on the Russian presence in the Black Sea. The chief of the military alliance claimed NATO's actions were purely "defensive and proportionate."
"Our deployments are a direct response to Russia's aggressive actions in Ukraine," Secretary-General Jens Stoltenberg said in Bucharest last Monday, adding that members of the alliance are "concerned by Russia's military buildup close to our borders and its lack of transparency when it comes to military exercises such as Zapad 2017."
NATO's military activities near the Russian border have been repeatedly criticized by Moscow, which has accused the alliance of undermining the security balance with its eastward buildup and military provocations.
Last week, the head of the Russian Parliament's Defense Committee warned that Moscow could deploy more forces, including Iskander-M tactical missile systems, to its western regions in response to the US deployment of additional forces to Poland. This came after reports that the US recently "covertly" sent a new mechanized brigade to Poland, increasing the overall strength of its military group in the eastern European state to the size of a mechanized division.
READ MORE: Moscow could send more missiles to Kaliningrad over 'US military buildup in Poland' – snr Russian MP
Washington, among other things, also plans to pour $5 million into a radar facility to be built at the Narva River, separating Estonia from Russia, Estonia's Interior Ministry said earlier this month. The US-funded radar is part of an $82-million project to strengthen Estonia's border with Russia, which includes outfitting it with technical surveillance along its entire length. The radar is crucial for Estonia's NATO allies as well, Estonian Interior Minister Andres Anvelt said.