'Mad dog' Trump flyers 'blown in' from N. Korea found in Seoul (PHOTOS)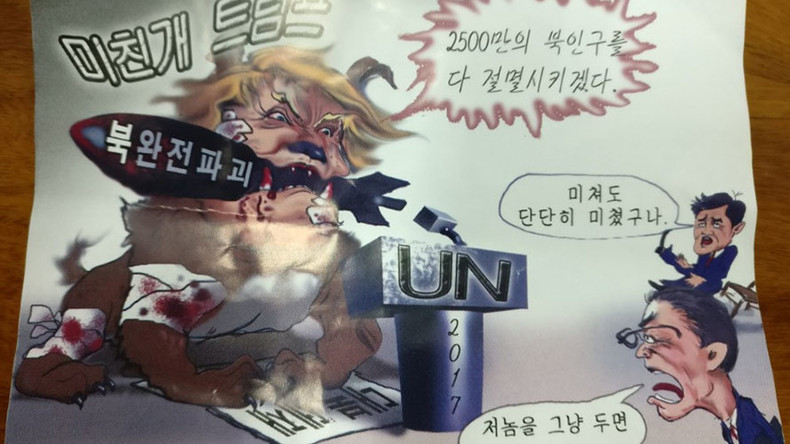 Anti-Trump propaganda leaflets have been found strewn across the South Korean capital, including near the presidential residence. Reportedly blown in from North Korea, the colorful flyers depict the US leader as "a mad dog," and wish gruesome death to the "old lunatic."
One of the flyers depicts Donald Trump as a dog with a human face, standing behind a podium with "UN 2017" written on it. The caricature holds a bomb in its mouth, which is inscribed with the words: "Totally destroy North Korea," according to Reuters.
"Will kill 25,000,000 people in North Korea," the 'mad dog' says, while two men in suits, reminiscent of Japan's Shinzo Abe and the South Korea's Moon Jae-in, comment: "He's gone completely insane" and "If we let him be, there will be war."
The leaflet apparently alludes to Trump's address at the UN last month, in which he threatened Pyongyang with total destruction in the event of an attack on the US or its allies.
READ MORE: Trump: US may have no choice but to 'totally destroy' North Korea
"Death to old lunatic Trump!" declares another flyer that depicts a furious North Korean soldier, stamping on what apparently portrays the US President's head in blood. "Complete obliteration," the caption reads.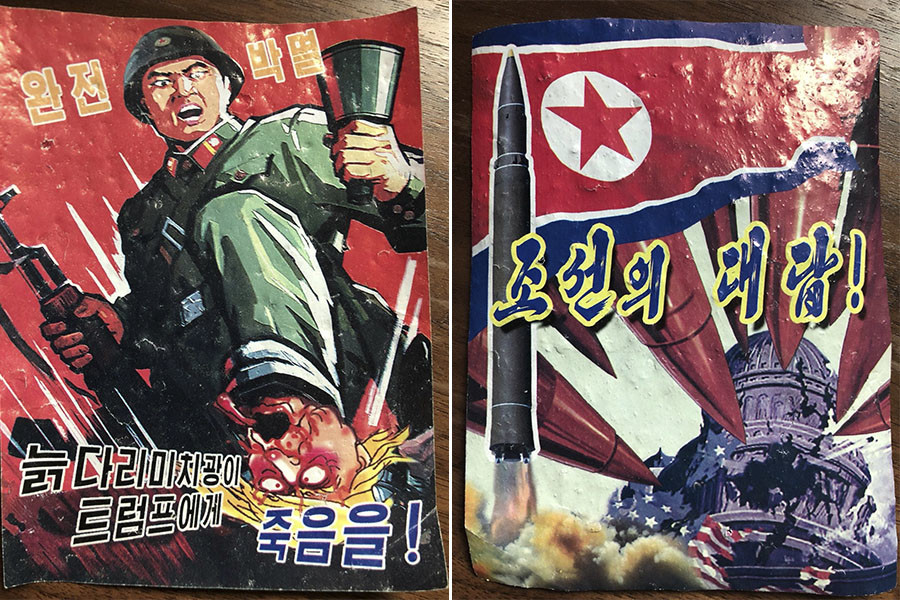 Another rather violent document calls to "behead mad dog Trump for the future of a peaceful and warless world and mankind," showing a dog being decapitated with an axe.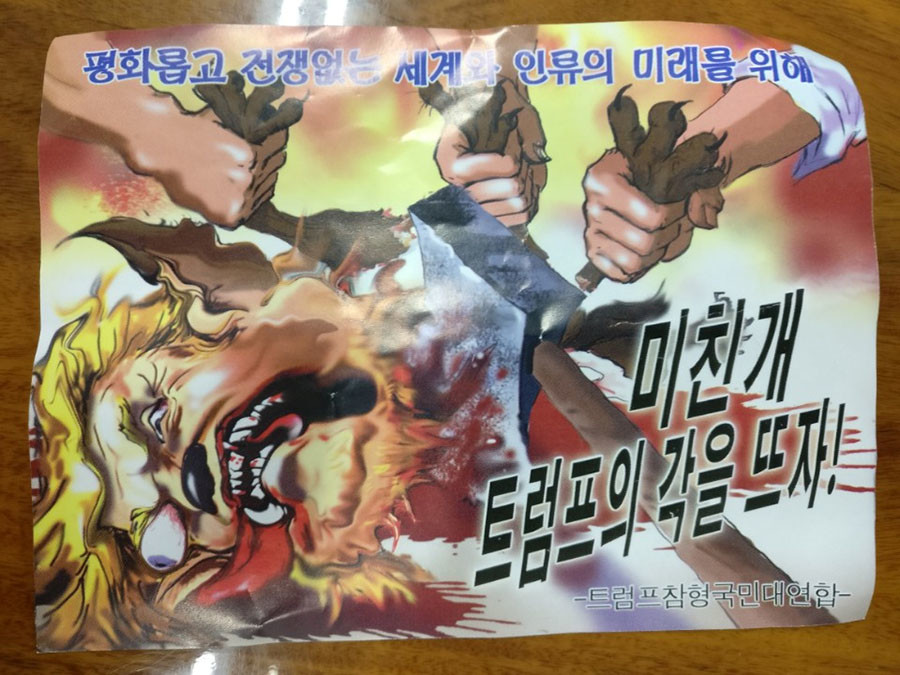 "Great leader Kim Jong-un firmly declared to tame the mentally deranged US dotard with fire," read another propaganda poster that was found in Seoul on Monday, according to AFP. A number of leaflets were found scattered in the yard of the presidential residence, Yonhap news agency reported, citing the Blue House press office.
The residence is looking into how the sheets ended up near the Blue House, according to reports. "Occasionally, the propaganda leaflets are flown this way by the wind and it's not clear if there is anything particular about this one," a presidential spokesperson told AFP.
The leaflets may have been carried by balloons, which are sometimes used by both the North and the South to distribute propaganda material since the start of the conflict on the Korean peninsula.
"I am pretty sure it came from North Korea by balloon, since the prevailing winds during October have been from north to south and we've been getting reports of others finding them throughout Seoul," Chad O'Carroll, managing director of a Seoul-based news service, NK News, told Reuters after he found the leaflets in the capital.