Cakes in space: Scientists launch sweet treat 120,000ft in the air (VIDEO)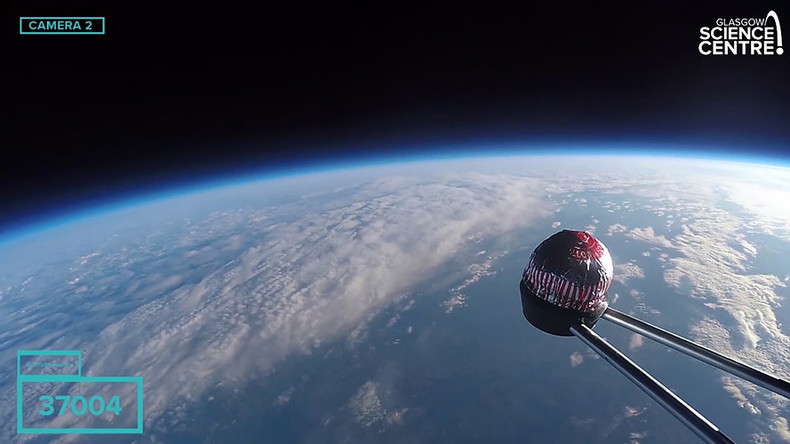 Scientists have sent a Tunnocks Tea Cake where no confectionary has ever gone before after launching the beloved Scottish snack into space.
The pioneering teacake, named Terry, was launched from Renfrewshire, west of Glasgow, on Friday.
It took around 90 minutes to reach a peak altitude of 37,007 meters (121,414 feet). It then took approximately 40 minutes to descend back to Earth where it landed in Galloway Forest Park.
The chocolate treat was sent into orbit on a hydrogen weather balloon by researchers from The Glasgow Science Centre. The experiment was streamed live on Facebook with more than 33,000 people following the biscuit's adventure.
According to the researchers, "Terry was pretty intact when he landed in a tree" in the park.
"We engage people with space science every day, and we thought 'what better way to spark people's imaginations and interest in STEM than for us to launch something into space ourselves,'" Dr Stephen Breslin of Glasgow Science Centre told BBC Scotland.
"We are delighted by how many people joined us at GSC, and online, to watch Terry's space adventures."
Terry the teacake isn't the first famous British food to be launched into space. In December last year, a meat pie was launched into orbit from outside a pub in Wigan to celebrate the upcoming World Pie Eating Championships.
READ MORE: Pie-oneering meat pastry makes bold journey into space (VIDEO)