US diplomat summoned over Russian flag removal from seized diplomatic properties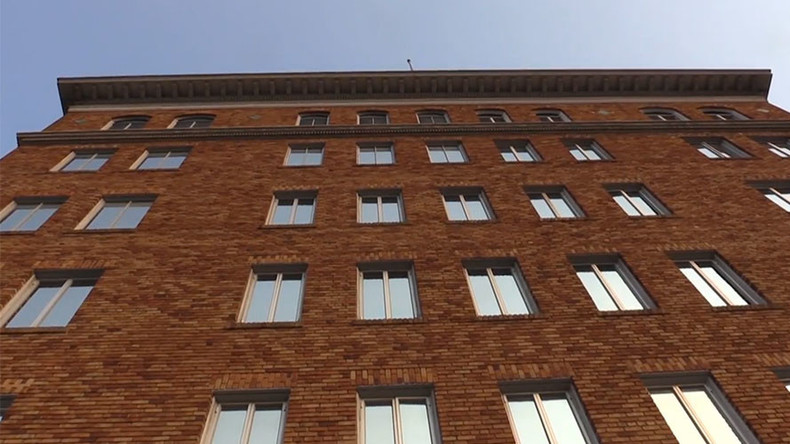 The Russian Foreign Ministry has summoned the US embassy chief in Moscow to demand the return of Russian flags, which were removed from seized diplomatic properties in the United States earlier this week.
Speaking to Sputnik radio in Crimea, Foreign Ministry spokeswoman Maria Zakharova said that the American charge d'affaires had been summoned to account for the seized diplomatic property.
"I am sure that we will raise the issue not only of the return of the flag, but also of the return of our property," said Zakharova.
"I can say you for sure that the protest has been lodged to the US side taking into consideration absolutely inadmissible actions. The US charge d'affaires in Russia was summoned and he has received a note of protest."
Russian flags had been removed from former consular buildings in San Francisco as well as a trade mission in Washington, DC, on Wednesday, which had previously been shut by US authorities. The Russian mission to the US described the move as "extremely unfriendly" while on Thursday, Foreign Minister Sergey Lavrov told Secretary of State Rex Tillerson by phone that the flag's removal was "unacceptable."
In response, State Department spokeswoman Heather Nauert told a press briefing on Thursday that the flags had been "respectfully lowered," are being "safely stored" and will be returned "at their [Russia's] convenience."
The dispute over the flags is the latest episode in an ongoing diplomatic row between Moscow and Washington, which started with the expulsion of 35 Russian embassy staff by outgoing President Barack Obama in late December 2016, as well as the closure of two diplomatic compounds in Washington, DC, and Maryland.
READ MORE: Moscow slams 'disgraceful' removal of Russian flags from diplomatic properties seized by US (VIDEO)
Though no retaliatory action was immediately taken, this summer the Trump administration slapped Russia with a fresh round of sanctions, prompting Moscow to force Washington to reduce its personnel in Russia by 700 staff. This move leveled the number of Russian and American diplomatic staff in each other's countries.
The Trump administration then, citing a "spirit of parity," took more hostile action in early in September, shutting the Russian Consulate-General in San Francisco as well as the trade missions in Washington and New York.