Moscow slams 'disgraceful' removal of Russian flags from diplomatic properties seized by US (VIDEO)
Published time: 11 Oct, 2017 22:53
Edited time: 12 Oct, 2017 13:55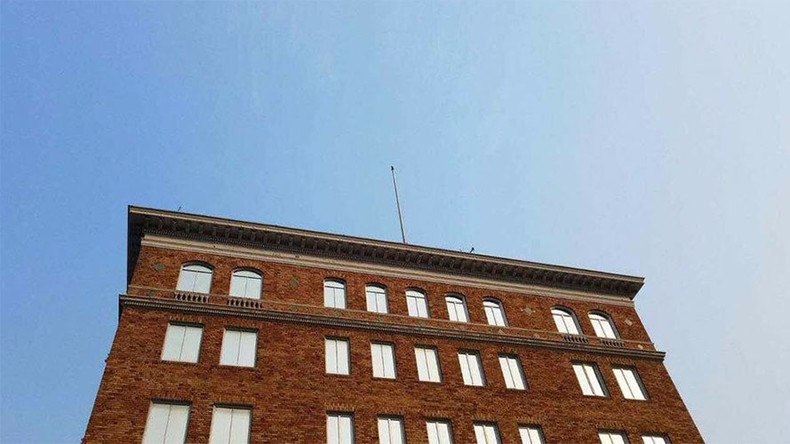 The Embassy of Russia in the US has strongly condemned the removal of Russian flags from previously seized diplomatic compounds and which the State Department claims were "respectfully lowered" and "safely stored" within the properties.
The Russian Mission to the US released photos of the closed diplomatic facility without Russian state flags Wednesday.
"A strong objection was sent to the American side in the wake of the removal of Russian flags from the diplomatic property in San Francisco, controlled by the US authorities. We perceive it as an extremely unfriendly move. We demand [the US] immediately returns the Russian state symbols to their place and prevents such incidents in the future," the embassy said in a statement on Facebook.
"Yet another one disgraceful event. Flags have been stolen from the buildings in San Francisco. We urge the US authorities to return our state symbols," the embassy added in a Twitter post.
"The flags at the former Russian consular properties in San Francisco were respectfully lowered and are safely stored within each of the buildings," a State Department official told Sputnik Wednesday. "The flag at the former Russian Washington, DC property was also taken down and is safely stored within the building."
Moscow has voiced its protest to Washington over the removal of the Russian flags, Russian Foreign Ministry spokeswoman Maria Zakharova said a news conference on Thursday.

"Yesterday, we learnt about a new, I can officially say hostile, action of the US authorities against our diplomatic institutions," she said, adding that Moscow views the incident as "a desecration of Russia's state symbols."

"The Russian side has not given consent for the removal of the [Russian] flags [from previously seized diplomatic compounds]."
The removal of the flags is the latest twist in the ongoing diplomatic row between Russia and the US.
Earlier this week, Moscow demanded that the US returns the "illegally seized" diplomatic buildings. "Russia reserves the right to undertake legal action and retaliatory measures," the Russian Foreign Ministry said Monday after FM Sergey Lavrov held phone talks with his US counterpart Rex Tillerson.
The diplomatic spat between Moscow and Washington dates back to late 2016, when on New Year's Eve, the outgoing Obama administration expelled 35 Russian embassy staff and closed two Russian diplomatic compounds in New York and Maryland.
Russia did not immediately retaliate as the new Trump administration was taking office.
The downward trend in US-Russia relations, however, persisted. In the summer of 2017, Washington slapped a new round of sanctions on Moscow.
The aggressive move prompted Moscow to force Washington to axe over 700 staff in Russia. The cuts to American and local diplomatic posts brought the number of US diplomatic staff to the same number that Russia has in the United States. The US took new hostile action early in September, shutting the Russian Consulate-General in San Francisco as well as the trade missions in Washington and New York.