Over 100 hippos killed in Namibia by suspected anthrax outbreak (VIDEO)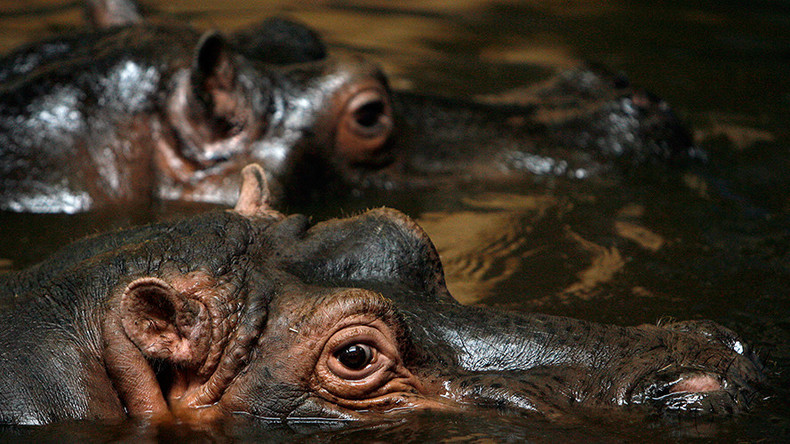 A suspected anthrax outbreak in a Namibian national park has left more than 100 hippopotami dead, according to reports.
The first dead hippo was discovered by park officials on October 1st, said the acting director of Namibia's Ministry of Environment and Tourism, Johnson Ndokosho. But in the less than two weeks since then the infection has spread rapidly, killing around 109 more hippos.
READ MORE: Sweden's wild boars have 'extremely high' radiation levels 31 years after Chernobyl
"Over 100 hippos died in the past week. The cause of death is unknown but the signs so far show that it could be anthrax," Namibian environment minister Pohamba Shifeta told AFP.

"Our veterinary services are currently working at the area to determine the cause of death. Once we have the results of the cause of death than we can decide on the way forward," Shifeta added.
Scores of hippos, and a number of dead water buffaloes, were filmed scattered around the park, lying on their sides or backs as vultures circled above their carcasses in Bwabwata National Park, located in a northeastern strip of Namibian land between Angola and Botswana.
"We suspect that they died because of anthrax but we are yet to confirm this," said Ndokosho to National Geographic.
READ MORE: British hiker 'found dead' in Greece was likely devoured by wolves, says coroner
Blood samples have been taken from the animals, although it's not known when the results will be available and Ndokosho says "there's not much we can do" to prevent further anthrax poisoning. "We can't move the wildlife," he added.
Anthrax is an illness caused by bacteria that occur naturally in soil, and it is known to affect wildlife when water recedes.
This is the first time such a deadly outbreak has hit Namibia, reports New China. Before the outbreak Namibia was home to approximately 1,400 hippos.