124mn obese kids worldwide, tenfold increase in 40yrs – WHO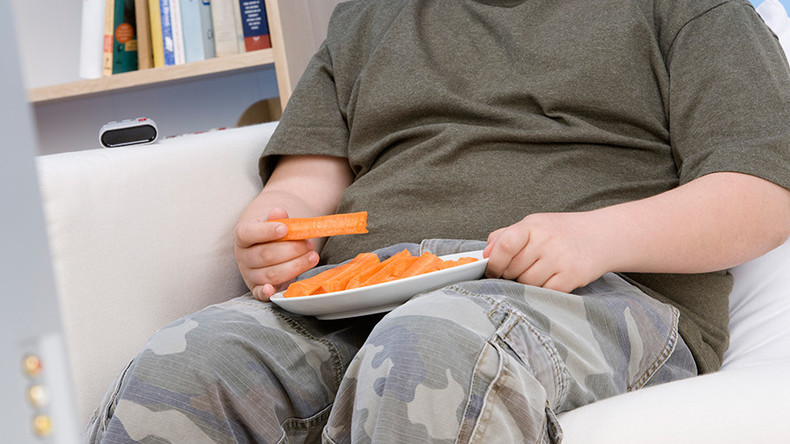 Childhood obesity has risen more than tenfold worldwide over the last four decades, with many middle income countries witnessing a transformation from mostly underweight kids to mostly overweight, according to a new health report.
This includes countries in East Asia, Latin America and the Caribbean which have experienced an increase in the consumption of energy-dense foods, especially highly processed carbohydrates, says the report from Imperial College London and WHO.
READ MORE: Toxic air, poverty, obesity: Health warning for London's most deprived children
Researchers warn that if current trends continue, more children and adolescents will be obese than moderately or severely underweight by 2022.
The number of obese five to 19 year olds rose from 11 million in 1975 to 124 million in 2016. An additional 213 million were 'overweight' in 2016, but fell below the threshold for obesity.
According to data from 2016, the global number of moderately or severely underweight children stood at 192 million.
"These worrying trends reflect the impact of food marketing and policies across the globe, with healthy nutritious foods too expensive for poor families and communities," lead author Professor Majid Ezzati, of Imperial's School of Public Health said.
"The trend predicts a generation of children and adolescents growing up obese and at greater risk of diseases, like diabetes," he added.
The study analyzed weight and height measurements from nearly 130 million people to calculate their BMI, and was published in the Lancet to mark World Obesity Day.
While obesity rates in Asia accelerated significantly, instances of childhood and adolescent obesity in high income countries slowed and plateaued.
South Africa, Egypt and Mexico, which had "very low levels of obesity four decades ago," now have among the high rates of obesity in girls, between 20-25 percent, Ezzati told a news conference.
"The experience of east Asia and Latin America and the Caribbean show that the transition from underweight to overweight and obesity can be rapid," he said.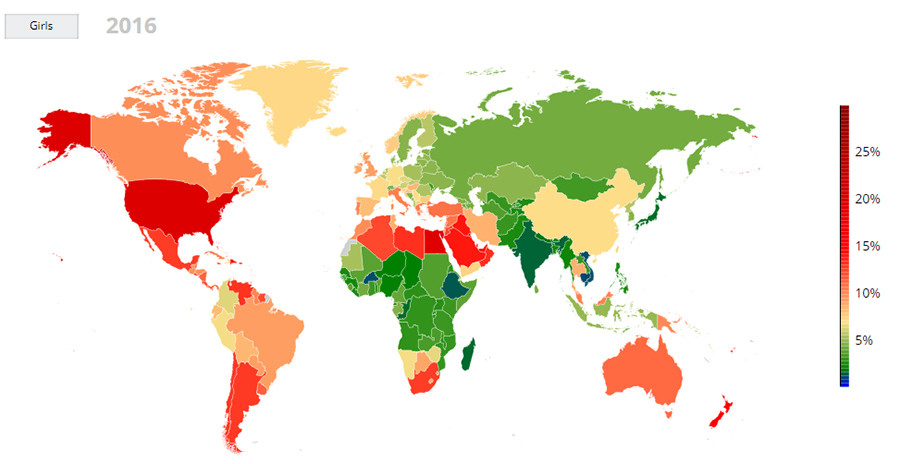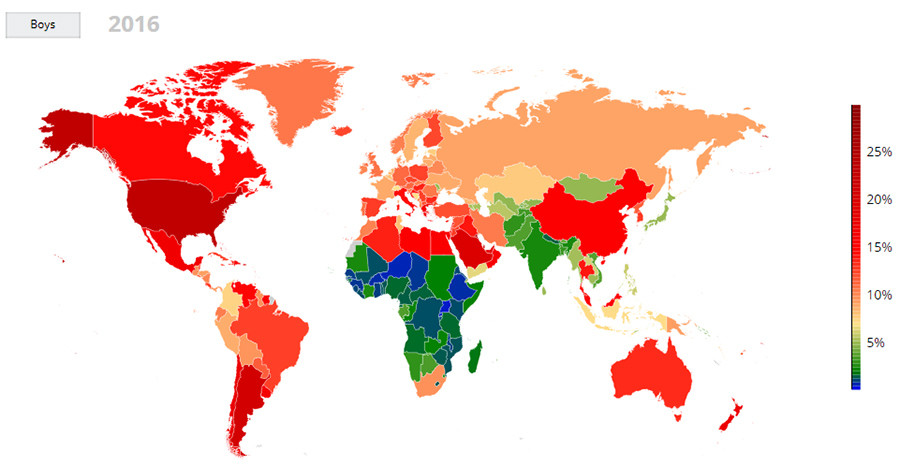 Polynesia and Micronesia had the highest obesity rate in boys and girls for 2016, at 25.4 percent in girls and 22.4 percent in boys. Among high-income countries, the United States of America had the highest obesity rates for girls and boys.
Meanwhile in Europe, girls in Malta and boys in Greece had the highest obesity rates, comprising 11.3 percent and 16.7 percent of the population respectively. Moldova reported the lowest obesity rates in Europe.
Researchers called for better nutrition at home and at school, as well as regulations and taxes to alleviate the impending crisis.
"We need ways to make healthy, nutritious food more available at home and school, especially in poor families and communities, and regulations and taxes to protect children from unhealthy foods," Ezzati said.
You can share this story on social media: