Russia could 'compensate' Ukraine for Crimea with money or oil – Czech president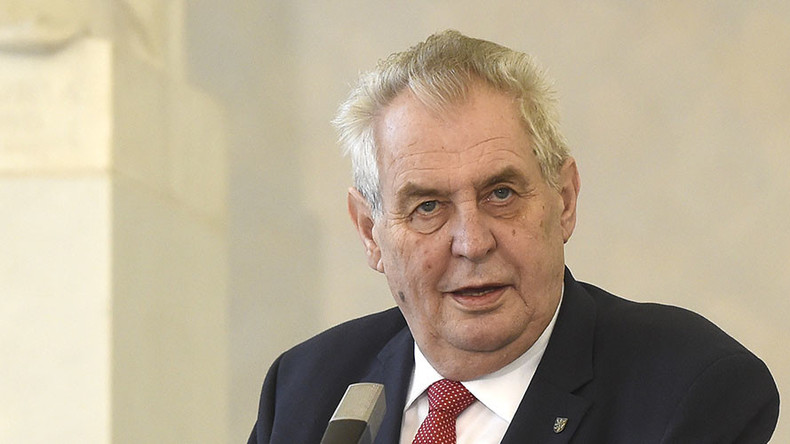 Ukraine's representatives staged a walkout after Czech president Milos Zeman told European parliamentarians the stand-off over Crimea could be resolved by Moscow paying compensation to Kiev. Russia also dismissed the idea.
"In my opinion, there will be some compensation for Ukraine [for losing Crimea]…money, oil or gas," Zeman told the Parliamentary Assembly of the Council of Europe (PACE) during his English-language speech in Strasbourg, France.
The Czech leader also urged European politicians to accept the secession of the peninsula from Ukraine as "fait accompli."
"If we want to take Crimea and return it to Ukraine, it will mean a European war… We must avoid the European war and you have to understand this," he told national deputies from the European states.
Instead, he called for Russia and Ukraine to develop closer economic and diplomatic ties, pointing to non-controversial initiatives such as student exchanges as a starting point.
Midway through this speech, Ukraine's PACE delegation, headed by Aleksey Goncharenko, left the assembly hall, telling journalists outside that "Zeman might as well offer to sell [the Czech resort] Karlovy Vary to the Russians."
A top Russian official similarly said that "Crimea is not the subject of haggling or transactions."
"We welcome that the Czech president recognizes the current status of Crimea as a done deal, but the idea of paying Ukraine for it does not stand up to scrutiny," Leonid Slutsky, the Chairman of the Committee on International Affairs in the Russian Duma, said in Moscow.
In his speech, Zeman repeated his frequent call to drop sanctions against Moscow.
"I do not discuss the justification of the sanctions, I discuss the efficiency of the sanctions. Just today, the German daily Welt published the article which says that the European Union loses by sanctions, and there is practically no damage for Russia. I should say, it is a lose-lose strategy."
He said that rather than weaken Russia, the various economic and travel restrictions imposed by the EU, US and other Western states over Crimea and eastern Ukraine, starting in 2014, have helped to bolster the Kremlin.
"If you wish to increase the popularity of a leader – and now I am not speaking only about Mr. Putin – then apply sanctions and blockades. Because psychologically there is the myth of the 'surrounded fortress'," said Zeman, who has said he will run for re-election next year.
Crimea reunited with Russia following a referendum in March 2014, in which 97 percent voted in favor of the reunion. The result remains unrecognized by Kiev and the West.
Moscow insists the vote was conducted in accordance with international law.