'Trump is like a teacher handing out fail grades. Which country will be next?' – Czech president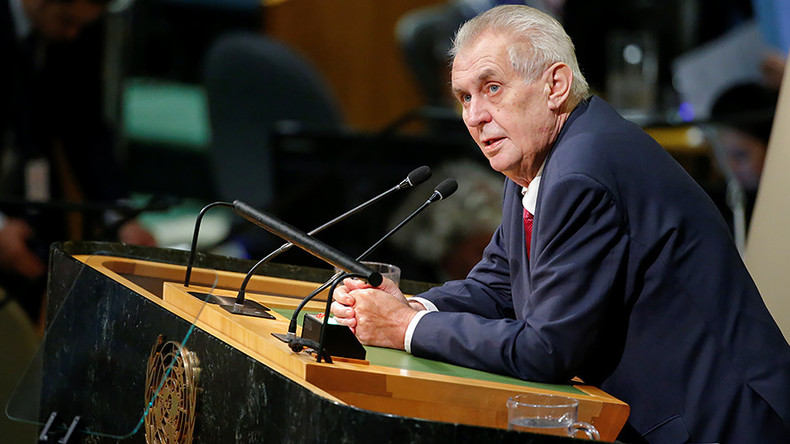 Czech President Milos Zeman criticized Donald Trump for lecturing "misbehaving" countries during his address to the UN, and says that the international community should be based on parity – not "masters and students."
"The speech reminded me of a teacher publicly handing out grades to misbehaving students. But the international community should not be a relationship between master and student. Either we are all teachers or all students," Zeman, who also delivered a speech at the UN General Assembly, told the Czech media in New York.
Zeman, 72, said he also disagrees with Trump's list of "bad" states.
"I listened to the speech and thought, North Korea, OK, that is a horrible dictatorship. But he went on. Venezuela. Then Iran – which was less obvious to me, because as you know the sanctions against it have been weakened following the nuclear deal," said Zeman.
The Czech president, who was elected in 2013, said that as long as the US considers itself the arbiter of international affairs, no country is safe from its censure.
"After those three countries, should you criticize Poland, because it violates the principles of an independent judiciary, or maybe the Czech Republic, because it won't allow migrants on its territory. Where does this stop?" Zeman, who is known for his informal manner, asked the media.
Cuba: Trump's comments 'disrespectful, unacceptable'
The US president used stark language to condemn an array of states in his Sunday speech, calling Iran "an economically depleted rogue state whose chief exports are violence, bloodshed and chaos," North Korea a "depraved regime" ruled by "a band of criminals" and Venezuela a "socialist dictatorship" which is "on the brink of collapse."
Labeled a "corrupt, destabilizing regime" in the speech, Cuba has been the latest to talk back to Trump.
"In the wake of the disrespectful, unacceptable and meddling statements made by President Donald Trump in his address to the UN General Assembly at a time when the US-Cuba Bilateral Commission was sitting in session, the Cuban delegation voiced a strong protest," said a statement from the Cuban Foreign Ministry.
Following a six-decade standoff US president Barack Obama made a symbolic visit to Cuba in March 2016, paving the way for the easing of long-standing economic sanctions, but Trump vowed that the US "will not lift sanctions on the Cuban government until it makes fundamental reforms."
Earlier, Iran called Trump's comments "shameless and ignorant," while Venezuelan President Nicolas Maduro said the US president was "a new Hitler."
You can share this story on social media: