Telephone terrorism tally: 1mn+ evacuated in Russia over month as bomb scares continue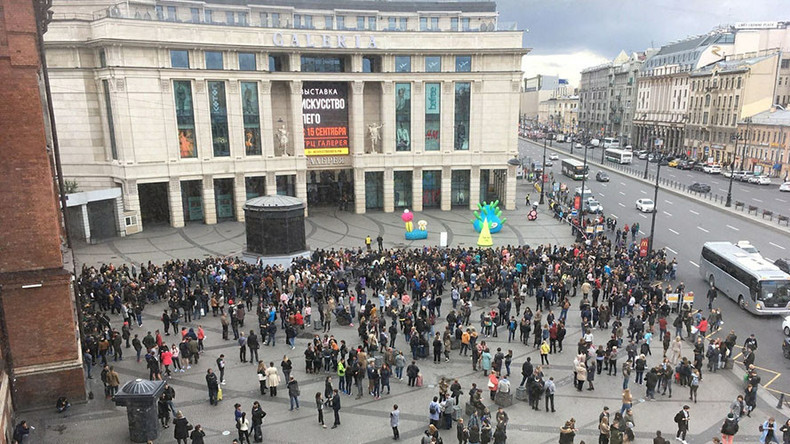 As bomb threat calls continue to inundate public locations across Russia, the number of evacuees has already hit over a million people since the start of the worrying trend a month ago, a source in the emergency services revealed.
Some 1.04 million people had to be evacuated starting from September 11, an unnamed source in emergency services revealed to RIA Novosti the scale of the epidemic, deemed 'telephone terrorism' by the authorities.
Telephone calls have caused mass disruptions in 170 Russian cities, with bomb threats targeting more than 2,400 sites, the source said.
On Monday alone, nearly 80,000 people were affected by the alerts in seven cities, including Moscow and St. Petersburg.
Airports, railway stations, educational facilities, hotels, shopping malls and offices have been targeted by the spate, with none of the threats turning out to be real.
As first calls started to flood Russian Far East, they quickly spread over to Siberia and the western part of the country. All 15 Russian cities with populations over 1 million have suffered from the evacuation epidemic, according to numbers by Meduza news outlet.
The mass disruptions have cost an estimated 300 million rubles ($5.1 million) in economic damage over the first days of the calls, according to Federal Security Service (FSB) Director Aleksandr Bortnikov.
With the origin of the bomb scares remaining unclear at first, four Russian nationals abroad had been tracked down as the source of the calls, Bortnikov announced last week.
"We've identified them, although it was not easy," he said, adding that security forces are searching for the organizers and their accomplices on the Russian territory.
"Since they've been using IP-technologies, it is difficult to trace their location."
Following last Friday's telephone 'attack' on Moscow's facilities, including the US embassy and iconic Lenin Mausoleum on Red Square, an unnamed source in the capital's law enforcement agencies told TASS that anonymous calls were coming from abroad, mainly the US.
"Apparently, the phone terrorists have used a special program with pre-recorded messages. So many bomb threat calls in Moscow used a distorted male voice, similar to a robot's. In some cases it was a male voice with an accent from the Caucuses," the TASS' source added.