'No World Cup, no crisis,' senior UAE official tells Qatar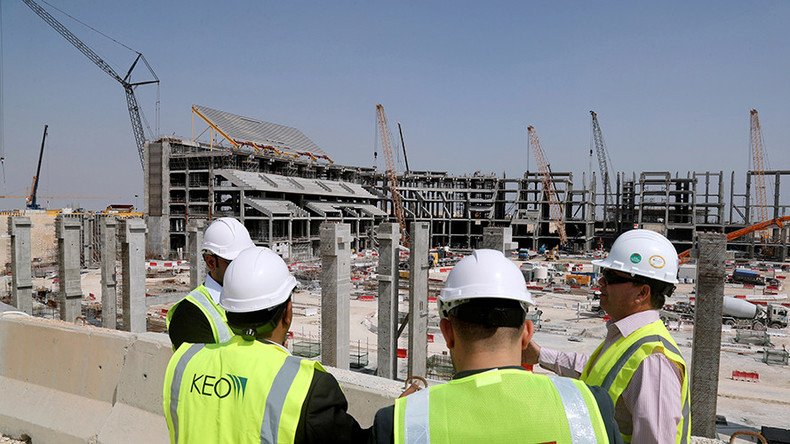 A top official from UAE, one of the four countries to boycott Qatar since June, has claimed that Doha neither wants to host the 2022 World Cup, nor is capable of doing so, adding more pressure on the Gulf state in the wake of a damaging report published last week.
"If the World Cup leaves Qatar, Qatar's crisis will be over," the head of security for the Emirate of Dubai, Dhahi Khalfan, tweeted on Sunday night.
News outlets and local observers initially interpreted the message by one of the region's prominent social media personalities as an ultimatum to the rival state.
On Monday, Khalfan took to social media again to clarify his "personal analysis," and implied that Doha itself has provoked the standoff.
"I said Qatar is faking a crisis and claims it's besieged so it could get away from the burdens of building expensive sports facilities for the World Cup," he tweeted. "That's why Qatar isn't ready and can't host the next World Cup."
Qatar has not responded, but FIFA, which awarded the tournament to the nation of 2.6 million people in 2010, said that it "does not comment on speculation."
The linking of the World Cup, by far the biggest international event in the country's recent history, and the diplomatic blockade, is an alarming development for Doha.
When they cut off travel communication and imposed sanctions on Qatar four months ago, Saudi Arabia, Bahrain, Egypt and the United Emirates demanded that the gas-rich state cut its ties with Iran, close broadcasting channel Al-Jazeera, and stop financing and harboring "terrorists" wanted by other states in the region. There was no mention of international football.
But despite a slowdown of its economy, Doha has not backed down, and says that new pressure points are being examined.
At the end of last week, a report came out claiming "tournament insiders and regional experts have both stated to us that it is far from certain Doha will actually host the tournament," calling the $200 billion endeavor a "high-risk project."
In response, Qatar "questioned the motives" of the authors, a management agency founded by a prominent London-based critic of the regime, and said the tournament was in no danger.
"The intention to create doubt regarding the tournament, while attempting to cause resentment amongst Qatari citizens and anxiety amongst foreign businesses and residents, is as transparent as it is laughable," a senior official said in a statement. "Despite the ambitious title of this report, there is absolutely no risk to the future of the first World Cup in the Middle East."
You can share this story on social media: