Qatar says will be ready for 2022 World Cup despite blockade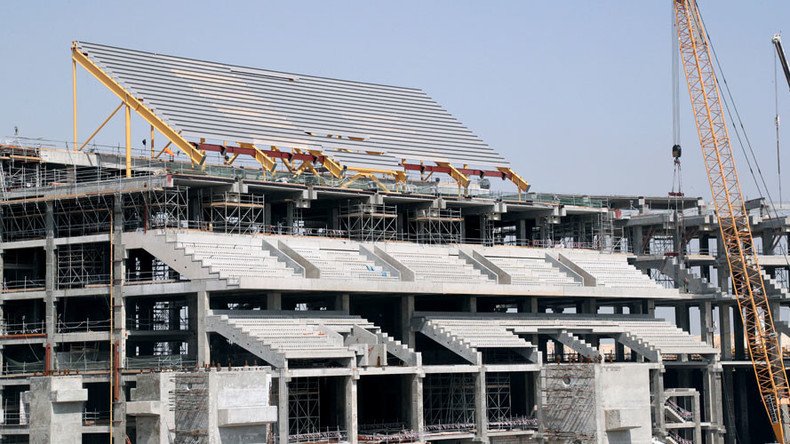 Doha says the Saudi-led economic and political boycott will not affect the country's preparations to host the 2022 FIFA World Cup even though the coalition has cut off construction supplies.
The emirate now needs to invest more than projected in replacing neighboring suppliers, catching up with an ambitious plan to erect eight stadiums, rail roads and build a brand new city before the world's most watched tournament.

"For every challenge we face, there are solutions that keep popping up. We are working with our contractors to make sure we actually deliver long-term supply chain solutions, and alternatives," Secretary General of the Qatar World Cup Supreme Committee for Delivery & Legacy Hassan Al-Thawadi said in an interview with Bloomberg.
Qatar has reportedly replaced Saudi steel with Malaysian, while Oman provides materials initially ordered in the UAE.
Chinese suppliers have stepped into the breach with a broad range of construction materials with Qatar building facilities to build bleachers.
At the same time, suppliers from boycotting countries are reportedly rerouting supplies via Oman.
READ MORE: Qatar to hold joint drills with US, Turkish militaries soon – defense minister to RT
''The World Cup is a do-or-die project for Qatar. It's a matter of prestige, and national pride and they are fully invested in it, so I don't see work for the project being stopped," said Adel Abdel Ghafar, visiting fellow at the Brookings Doha Center, as quoted by the agency.
Before the blockade started, Doha had confirmed it would spend $200 billion on new stadiums, a $35 billion for a metro and rail system along with a new city for 200,000 people.
Contractors had to look for new markets for comparable materials. That has reportedly delayed some of the work. However, these delays won't affect the overall schedule, according to Al-Thawadi.
"The good thing is we have a buffer," he said.
You can share this story on social media: