Saudi Arabia looks to Russia as counter-balance to American power & influence - analyst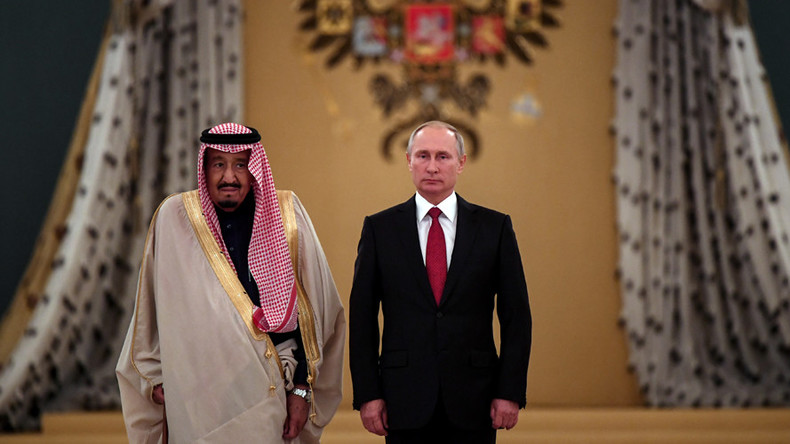 Riyadh is trying to diversify - not only economically, but politically. That is why they have approached Russia so as not to place all of their eggs into one basket, Mamdouh Salameh, international oil economist & consultant to World Bank, told RT.
King of Saudi Arabia Salman bin Abdulaziz Al Saud on Thursday paid a historic first official visit to Russia. He met with Russian President Vladimir Putin to discuss "joint steps to further develop bilateral cooperation in the trade, economic, investment and cultural-humanitarian areas."
The meeting has sparked heated speculation among observers as so many things - from the ongoing war in Syria, to oil production - are connected to Saudi Arabia and Russia.
RT: What does this visit mean for the future of Saudi-Russia relations?
Mamdouh Salameh: It is an extremely important visit, because it is the first by a Saudi monarch since the establishment of the Kingdom of Saudi Arabia in 1932. You must realize that Saudi Arabia and Russia are the only two producing oil countries, which can flood or starve the global oil market. Therefore, they have a great influence on the global economy and the price of oil.
However, the cooperation between Saudi Arabia and Russia could support the oil price, to start with, and maybe they may agree to extend the production cuts for further three months, maybe till the end of the year. President Putin has already indicated that could be the case. Here we can see also a rise in the importance of Russia in Middle Eastern and global affairs under Putin.
Such cooperation between Saud Arabia and Russia could be a positive, or could reflect positively on the conflict in Syria. Although Saudi Arabia and Russia are on opposite sides. Any cooperation between them could calm the situation. And who knows – they could reach eventually a break in the deadlock and bring peace to Syria.
RT: How significant is this meeting particularly for the oil and energy sector?
MS: It is extremely important. As I said, Saudi Arabia and Russia are the biggest oil producers. Their agreement has engineered the introduction of the production cuts. Now their cooperation could help extend the production cuts and thus bolster the oil price in coming months. The oil price has failed so far to break through the important $60 barrier, and there are many reasons for that. I think an agreement between Saudi Arabia and Russia to extend the production cuts could enable the price to break through the $60 level before the end of the year.
RT: Saudi Arabia and Russia are not exactly in line when it comes to politics. Do you think they'll be able to put their differences aside and do business together?
MS: As you realize, Saudi Arabia is on the opposite side from Russia. Saudi Arabia supports the opposition. Russia supports the regime of Bashar al-Assad of Syria. Any growing friendly relations between Saudi Arabia and Russia will reflect positively in the situation in Syria. And remember, there is a huge geopolitical shift by Saudi Arabia in trying to establish good relations with Russia – it is trying not to put all its eggs in one basket. They are trying to diversify - not only economically, but politically. That is why they approach Russia - to establish relations with them as a counter-balance to the American presence completely, and not only that, but by the fact that there is some coolness in the relations between Saudi Arabia and the US.