6 people killed in powerful storm in Germany (PHOTOS, VIDEOS)
Published time: 5 Oct, 2017 23:43
Edited time: 6 Oct, 2017 09:26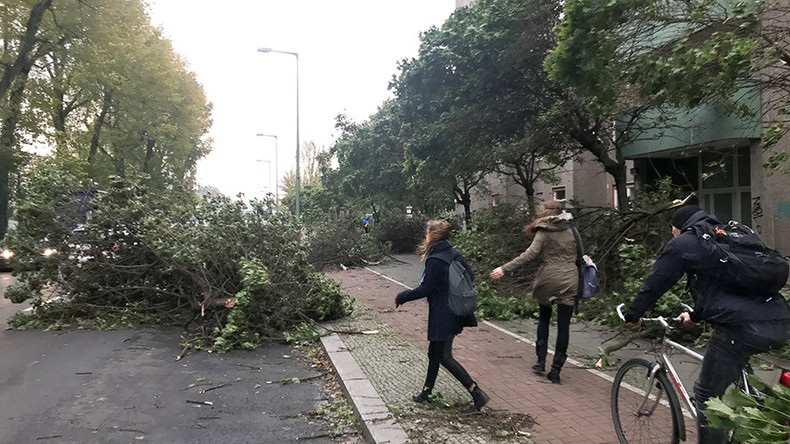 Six people were killed by a powerful storm that swept through northern and eastern Germany on Thursday, knocking down trees and cranes and causing commuter havoc.
At least four of the victims were killed by trees that crushed their cars in the eastern state of Brandenburg and Mecklenburg-Vorpommern, as well as the cities of Berlin and Hamburg.
READ MORE: Puerto Rico asks for federal help to recover from Hurricane Maria
Berlin's fire brigade declared a state of emergency and issued a warning to residents to stay indoors as storm Xavier ripped its way through the north of the country.
The storm reached category 3, on a 4-point scale. At one point the German Weather Service (DWD) said the storm reached hurricane-strength wind speeds of between 105 and 115 kilometers (65 and 71 miles) per hour.
READ MORE: US Air Force sprays Harvey-stricken Texas with controversial chemicals
Hundreds of commuters were stranded when trains ground to a halt because most railway lines were blocked with fallen trees. Deutsche Bahn canceled long-distance trains to and from Berlin as well as services in Lower Saxony, Schleswig-Holstein and Bremen and commuter trains in Hamburg.
Bremen and Hanover airports canceled some international flights as a result of Xavier and bus services were restricted.
The storm is forecast to move eastward toward Poland overnight.