Catalan activists escape Spanish crackdown by counting votes at church altar (VIDEOS)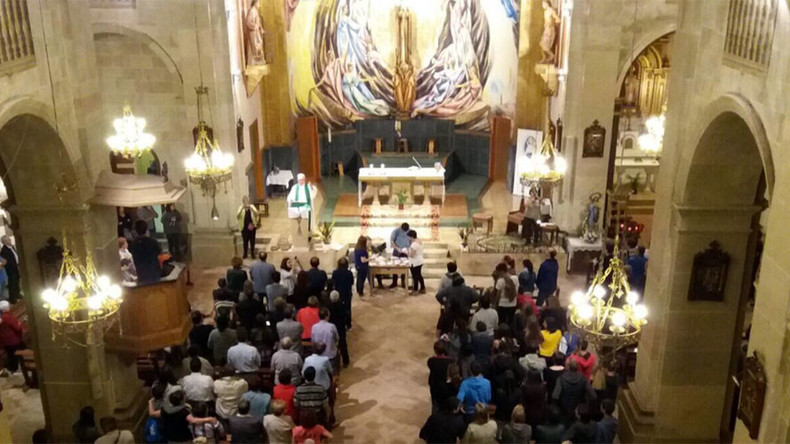 A priest in Catalonia has donned his robes and appeared before a packed congregation – not to say mass, but to oversee an act of surreptitious vote counting.
Footage shows Catalonian independence referendum activists evading Spanish security forces in the town of Vila-rodona in Tarragona by counting the ballots from boxes at the altar while the priest leads the attendants in song.
The video was filmed during the crackdown by Spanish authorities on the Catalonian independence referendum held in the region on 1 October.
READ MORE: 'I had my fingers broken': Catalan woman speaks out on Spanish police violence
In the first clip, reportedly filmed Sunday afternoon and posted by Jaume Clotet, the Catalonian government's director of communications, the congregation offers a loud applause when the ballot boxes arrive in the church. One of the counters lifts the box and shakes it, much to the delight of the crowd.
In a second video, the organizers pay tribute to those who were injured in violent clashes with police at polling stations across Catalonia. The congregation then breaks into a chant of "hem votat!", meaning "we have voted!"
In the final video, the crowd is heard singing 'Virolai', a hymn to Our Lady of Montserrat, the patron saint of Catalonia, while the ballot boxes are emptied and counted.
Speaking to La Vanguardia, priest Franscesc Manresa said the "ploy" was an attempt to avoid the violence seen in other towns across Catalonia.
"I have a very good relationship with the neighbors and before the violence in other towns, I offered the temple to them," he explained.
"It was also bigger and so more people could follow the scrutiny. I'm happy to have welcomed them."