'Nobody is safe': French Parliament backs controversial anti-terrorism law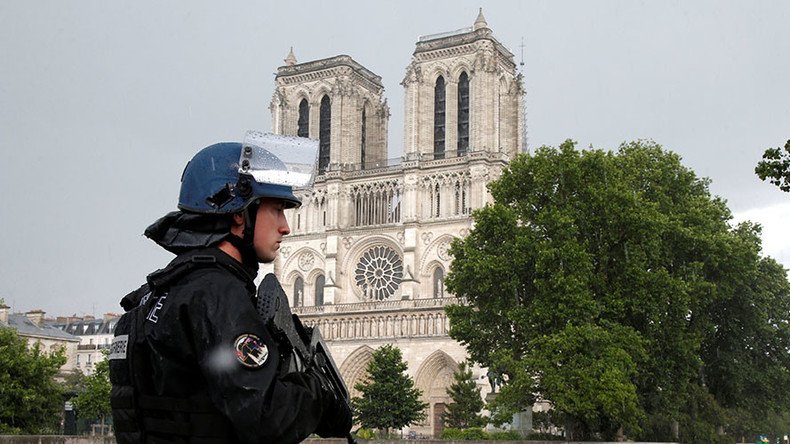 The French parliament has approved a new anti-terrorist bill, criticized by human rights activists as restrictive of civil liberties. Ahead of the vote, France's interior minister Gerard Collomb said that "nobody is safe" in the country as "it is still in a state of war."
The parliament's lower house, the National Assembly, passed the new legislation in the first reading.
The new bill, which seeks to increase law enforcement powers in the fight against terrorism, was supported by 415 lawmakers, with 127 voting against it.
It extends the powers of the Interior Ministry, which will be able to set up security zones without the approval of a judge.
Inside the zones, the movement of people and vehicles can be restricted and searches can be conducted. Police will also be given wider powers to raid private property with judicial approval.
Electronic surveillance tags might be imposed on those regarded as a threat to national security, while officials will also have more power to close down places of worship deemed by intelligence agencies as inciting violence or justifying terrorism.
The new bill is regarded by many as a conversion into common law of emergency measures, which have been in place in France since late 2015. The state of emergency, introduced following the Paris attacks in November that year, is set to be lifted on November 9.
"The level of threat in France is extremely high," Collomb said earlier in the day, adding that the country remains "in a state of war."
"Those who thought... that we should loosen the capacity of our services to gather information, were mistaken because yes we are still in a state of war even if Daesh [Islamic State/IS, formerly ISIS/ISIL] have experienced military defeats," Collomb said in an interview with France Inter radio.
France's new anti-terrorism bill expanding police powers has been criticized by human rights groups as restrictive of certain civil liberties. The minister argued "nobody is safe" in France, also referring to a recent incident in which a number of people were arrested in what appeared to be a failed bombing attempt in central Paris.
Police have revealed that over the weekend a resident of an apartment building in the affluent 16th arrondissement had alerted authorities to suspicious activity. What appeared to be a ready-to-detonate bomb was discovered, while a person who had been under government surveillance for radicalism was confirmed to be among the detained suspects.
"Planning to blow up a building in a chic district of Paris – is this not a sign that nobody is safe? This [shows] it can happen anywhere in France," the interior minister said.
Collomb also criticized other countries lacking surveillance systems "like the one in France" and called for wider information exchange and cooperation within Europe to reinforce anti-terrorism measures.
"A number of countries do not have the systems and the level of surveillance that we know in France. We believe it is us who have made Europe a strong Europe on its borders, while a number of [other European] countries do not have that kind of organization," the French minister claimed.
France has seen some of the deadliest terrorist attacks in Europe in the past years. Over 200 people have been killed since early 2015 by assailants having pledged allegiance to or been inspired by the Islamic State terrorist group. In a series of coordinated attacks in Paris on November 13, 2015 alone, 130 people were killed by IS terrorists. On Bastille Day in 2016, a truck was driven into crowds of people celebrating in Nice, killing 86 and injuring over 450.
You can share this story on social media: