Catalonia: Police fire rubber bullets in clash with voters (VIDEOS, PHOTOS)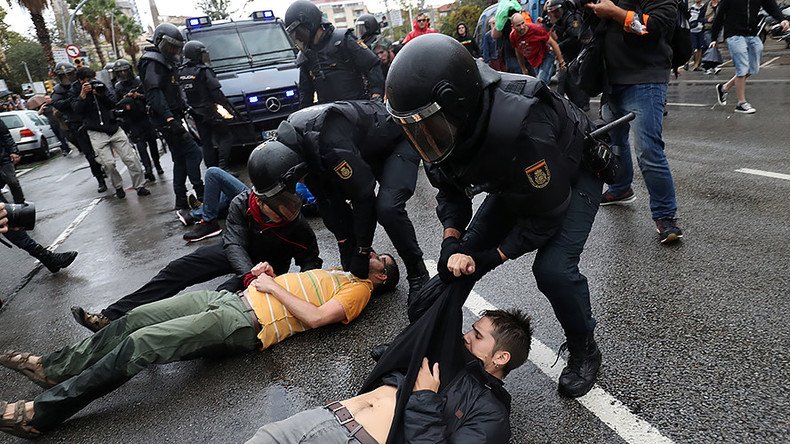 Bloody clashes between police and Catalans have erupted as Sunday's independence referendum is conducted in the region. Police have forcibly blocked citizens from casting their vote and have smashed their way into some polling stations, closing them down.
READ MORE: Catalonia holds independence referendum amid violent attempts to thwart vote (Live updates)
Spain's Guardia Civil was deployed Sunday morning as the government sought to prevent the referendum, which it considers illegal. Police have smashed their way into a number of voting stations, removing ballot boxes in the process.
In some instances police forcibly removed would-be voters from the buildings.
Images shared online show Catalans injured and bloodied as a result of scuffles with police. According to social media users, as well as a number of locals interviewed on television, the police have fired rubber bullets.
READ MORE: Police use of batons & rubber bullets is 'unjustified violence' – Catalan leader
As tensions continue to mount, videos show police pushing, hitting and dragging people as they try to make their way into polling stations.
"They cannot silence the voice of people. We will vote and win," Catalan National Assembly (ANC) president, Jordi Sànchez, wrote on Twitter, attaching a picture of Catalan president Carles Puigdemont with his ballot.
"I have got up early because my country needs me," Reuters reports 65-year-old, Eulalia Espinal, as saying. Espinal started queuing with around 100 others outside one Barcelona polling station at 5am this morning.
"We don't know what's going to happen but we have to be here," she added.
You can share this story on social media: