'Today we are all Catalans': Flanders supports Catalonia's bid for independence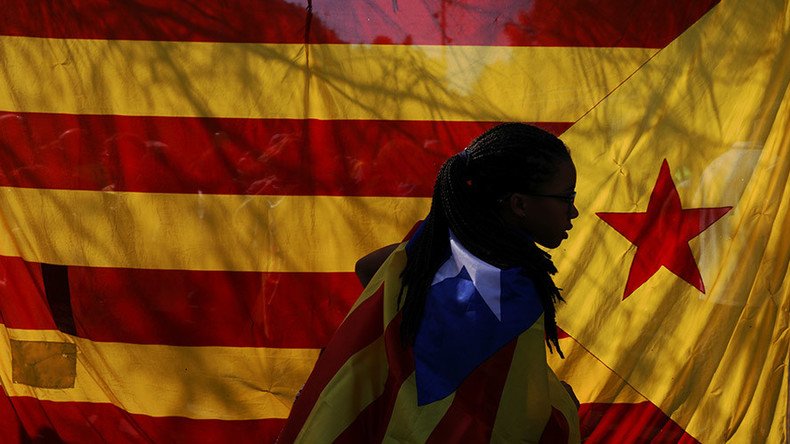 Flanders, the Dutch-speaking region of Belgium, has expressed solidarity with Catalans fighting for their right to hold an independence referendum, saying that Madrid and the EU should "comply with the results."
"Today we are all Catalans," said the Speaker of the Flemish Parliament Jan Peumans, addressing the president of Catalan regional parliament Carme Forcadell in Flanders on Wednesday, Belga news agency reported.
On Tuesday, Peumans said that central government in Madrid should treat "legitimate aspirations of Catalonia in a democratic way" and "to listen to the voice of the people."
"When the results of the [upcoming Catalan] referendum are released, everyone will have to comply, including the European Union," stated Peumans who is a member of the New Flemish Alliance (N-VA) nationalist party. The party campaigns for the peaceful secession of Flanders from Belgium.
Tensions are running high between Madrid and Catalonia after the region's Parliament passed a bill earlier in September paving the way for an independence referendum to be held on October 1. The Spanish government considers the referendum illegal.
READ MORE: 'State of siege': Catalan officials, incl. junior economy minister, arrested over referendum docs
Madrid has launched a massive crackdown on Catalonia's officials behind the referendum. Earlier in September, Spanish police arrested top-ranking Catalonian officials, including Junior Economy Minister Josep Maria Jové. The Civil Guard also conducted searches of the Catalonian government buildings.
The Spanish state prosecutor also ordered a criminal investigation of 712 Catalan mayors for co-operating with the process.
However, these moves didn't discourage Catalonia, with the independence referendum scheduled in three days' time. The president of Catalonia, Carles Puigdemont, accused Madrid of showing a "totalitarian attitude" by arresting Catalan officials. He also vowed to move forward with the referendum, despite warnings not to do so.
Flanders is not the first region to voice support for Catalonia. Scotland, which held a referendum for independence in 2014, also expressed solidarity with Catalans.
"The right of self-determination is an important international principle and I hope very much that it will be respected in Catalonia and everywhere else," Scottish First Minister Nicola Sturgeon said last week.
READ MORE: EU elections: Seven regions in Europe that would rather go it alone
Catalonia, a wealthy region of some 7.5 million people in northeastern Spain, which has Barcelona as its capital, has its own language and culture. The region previously held an informal independence referendum in 2014, which saw 80 percent of those who voted choose independence. Nevertheless, that ballot was ruled unconstitutional by Madrid.
You can share this story on social media: