RT 'Bring them home' appeal: 6 new children, incl militant's teen widow, arrive in Baghdad orphanage
Six more children, including a 16-year-old widow of a militant, have arrived at an orphanage in Baghdad. As in previous cases, most of the children have suffered psychological damage, and some of them struggle to speak. RT heard the children's stories.
A 16-year-old girl, already the widow of a terrorist, and two siblings – a girl who refuses to speak and a four-month-old baby, who have just lost their mother – were among the new arrivals of Russian-speaking children at the Baghdad facility.
Aisha looks like any other teenage girl, but she is already the widow of an extremist.
She says she is originally from Tajikistan, a former Soviet republic in Central Asia, but that she doesn't know the whereabouts of her parents.
"I don't know. They [parents] were in Mosul [in Iraq] at first. Then the attacks began, the war broke out, and I left for Tal Afar [a city 60km west of Mosul]," Aisha said with tears in her eyes.
Aisha was brought to the Baghdad orphanage together with three-year-old Muhammad, nine-year-old Abdullah and seven-year-old Fatima – who are believed to be her siblings.
On her way to the orphanage, Aisha met a Russian-speaking woman with two girls, three-year-old Mariam and four-month-old Fouadim. Aisha says that the children's father "died a long time ago."
READ MORE: 2 Russian orphans whose parents were killed in Iraq arrive in Moscow (VIDEO)
"But their mother was with us. She died on our way to Tal Afar. The girl [Fouadim] was in her arms at the time – I took her. The mother was suffering from heart disease. That's why she died, I believe," she said.
Read more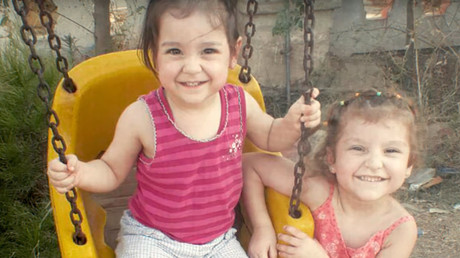 Mariam still struggles to talk, and so far she even can't say her name to the camera. As with some of the other new arrivals, she and her sibling potentially have relatives in Russia.
The stories of these children are among many that RT has reported as part of its 'Bring them home' campaign, which appeals to anyone with information about the children in the videos to share it at children@rttv.ru.
RT launched the campaign back in August. RT Editor-in-Chief Margarita Simonyan issued an appeal on Twitter, calling on people to contact RT if they recognized any of the children. Her call was followed by Chechen leader Ramzan Kadyrov, who posted the RT footage in Russian on his Instagram account.
Since the start of the campaign, RT has received numerous calls from people who say they recognize children in the videos. People shared heart-breaking stories about their sons, daughters, brothers and sisters who fled to join Islamic State (IS, formerly ISIS/ISIL).
Moscow is now trying to bring several dozen Russian-speaking children from Iraqi orphanages back home. The authorities have so far managed to facilitate the safe return of 18 Russian-speaking children, the Chechen Republic's representative to the Middle East, Ziyad Sapsabi, said earlier in September. These children are not only from Russia but also from the former Soviet republics.