2 Russian orphans whose parents were killed in Iraq arrive in Moscow (VIDEO)
Two more Russian orphans, whose parents joined the Islamic State terrorist group in Iraq, have landed in Moscow after being rescued from Mosul where all of their kin had perished.
Their plane was met at Moscow's Domodedovo airport by Haidar Hadi, Iraq's Ambassador to Russia and Presidential Children's Rights Commissioner, Anna Kuznetsova. The children will now be transferred to Grozny where they will be reunited with their surviving relatives.
"They have grandmas and grandpas that are waiting for them. Tomorrow they will meet their relatives in Grozny," Kuznetsova said at the airport.
READ MORE: 90% of Iraqi children have lost a relative, orphans exposed to rape & abuse – charities to RT
RT has helped initiate the search for the surviving relatives of eight-year-old Hadidja Husenova and nine-year-old Adlan Dakaev. Traumatized, wounded, and refusing to speak, both of them were brought to the same orphanage in the Iraqi capital where other Russian-speaking children are being kept after their parents have either disappeared or been killed.
At first they were believed to be siblings, but further investigations into their backgrounds revealed they were not related.
"The children's parents were killed. These two children are orphans, with no sisters, or brothers," the Chechen Republic's representative to the Middle East, Ziyad Sapsabi, told reporters.
Sapsabi shared the story of Adlan's survival which was similar to Hadidja's. The boy's father was killed by the US coalition's shelling during the siege of Mosul. The boy's mother managed to shelter him alongside two of his brothers and a sister in a cellar. However, during the bombardment, Adlan's mother and siblings were all killed.
"Four of them have been unfortunately killed, most likely by the shockwaves produced from bombs and rocket fire. According to Adlan, there was no blood, no visible damage [to the bodies]," Sapsabi said.
Adlan, who is now less shy in front of cameras, said an injury to his leg was caused by shrapnel that struck him during the air raid.
Read more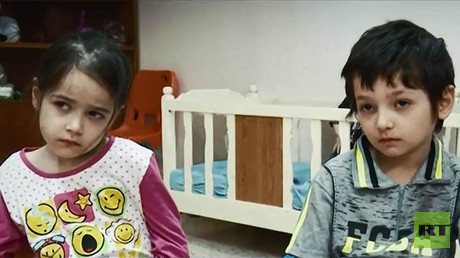 "The plane hit... from a rocket," the nine-year-old said when asked by one of the journalists about his wound.
The story of these two children is one of several that RT has brought to light through its 'Bring them home' campaign, which appeals to anyone with information about the children in its videos, and to share it at children@rttv.ru.
Russian authorities have so far managed to facilitate the safe return of 18 Russian speaking children, saving the lives of not only Russian but Kazakhstan, natives as well, Sapsabi said. In addition, four mothers were flown from Iraq to Russia as part of a government supported campaign earlier this month.
"We will continue to work until we are certain that the last living child and women of our countrymen are returned from abroad," Sapsabi said.
"This is common grief, our common problem."
"We are the first country that can, and continues to return their citizens," Sapsabi added, pointing out that "German and other European nations absolutely do not aspire [to repatriate their natives]."
According to Kuznetsova, around 500 Russian speaking children were discovered in the territories recently liberated from IS in Iraq. The main concern is to return all the Russian speaking orphans back home before they forget their native tongue.
"The linguistic principle is the main identification method of Russian children. If more time passes, the children will get accustomed to another language, and it will be hard to distinguish the Russian children from the rest of orphans," the Children's Rights Commissioner added.