Drills by US & allies near Korean Peninsula 'taunt & provoke' Pyongyang – Moscow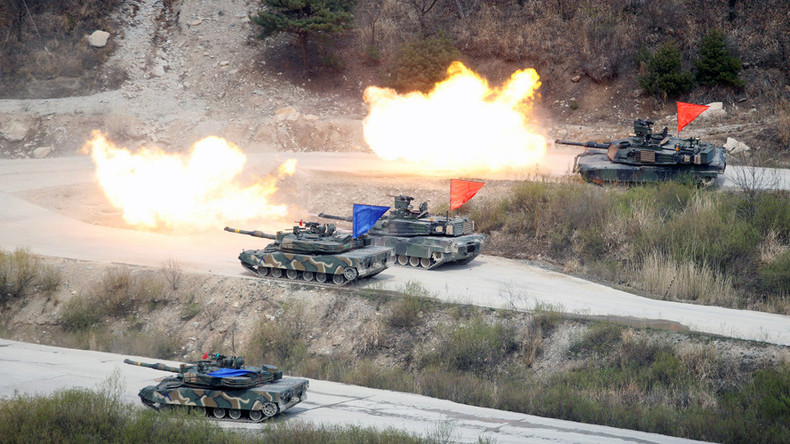 The military exercises the US and its allies regularly conduct near the Korean Peninsula are only provoking North Korea's leadership into taking a confrontational stance, a senior Russian diplomat said.
"The massive maneuvers staged near the coast of North Korea are apparently meant to taunt the North Korean leader [Kim Jong-un], to provoke him into some sloppy action," Mikhail Ulyanov, head of the Russian Foreign Ministry's non-proliferation and arms controls department, said on Tuesday as cited by Interfax.
These actions and the US' past record of military interventions in other sovereign nations cause Pyongyang to fear for its safety and seek a nuclear deterrence, according to Ulyanov.
He reiterated Russia's call to deescalate tensions surrounding North Korea's nuclear and rocket programs, saying that Moscow does not consider military action a viable solution.
"The military path is not an option for us. We reject it," he said, adding that military action would be "catastrophic not only for South Korea, but for the entire region."
Ulyanov also criticized the US for relying too much on sanctions in its dealings with Pyongyang.
"Sanctions are not panacea, and our American partners, who are relying only on sanctions pressure are going nowhere," he said.
"This means that they acknowledge their weakness and inability to find a better solution for this difficult situation, which requires an unorthodox approach."
The US regularly stages drills with its regional allies – South Korea and Japan – to demonstrate its strength to North Korea. The war games fuel fears in Pyongyang that they could be used as cover for an invasion.
The latest naval exercise near North Korea by the USS Ronald Reagan supercarrier and Japanese warships was conducted last week.
READ MORE: 'US declared war first': N. Korea says it has right to shoot down strategic bombers
Russia and China have called on the US and South Korea to suspend the exercises in exchange for Pyongyang halting its nuclear and missile tests, a move meant to defuse tensions and pave the way for a negotiated solution to the crisis.
Washington and Seoul have rejected the proposal, saying they have the right to conduct military drills and improve South Korea's security.