US aircraft carrier & bomber 'under attack' in doctored N. Korea footage (VIDEO)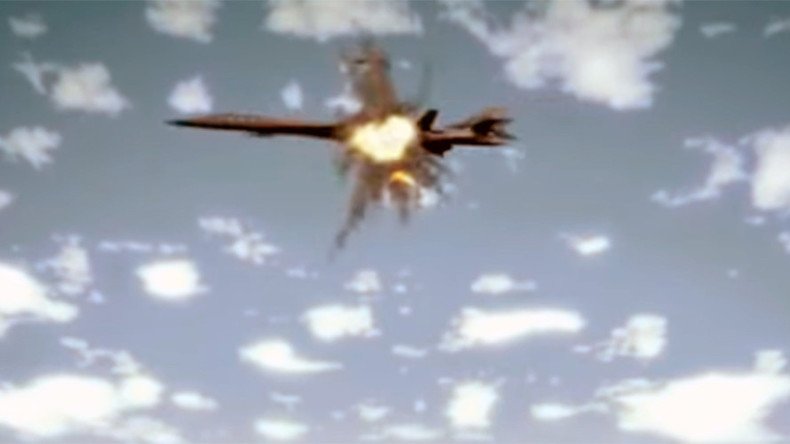 North Korea's state media has released a doctored video worthy of a Hollywood blockbuster, in which a North Korean missile "destroys" US B-1B and F-35 jets, while a submarine targets America's state-of-the-art carrier USS Carl Vinson.
The video, released by DPRK Today, also features US President Donald Trump, seen speaking at the celebration of the US Air Force's 70th Anniversary at Joint Base Andrews, portrayed as "a mad man," South Korean news agency Yonhap reported.
Also in the footage, a North Korean submarine-launched missile strikes the USS Carl Vinson, a Nimitz-class nuclear-powered aircraft carrier, with the caption reportedly saying: "Should F-35, B-1B and the Carl Vinson lead the US attack, they will head to the grave in that order."
DPRK Today released the apocalyptic footage hours after US Air Force B-1B Lancer bombers, escorted by fighter jets, flew in international airspace over waters east of North Korea on Saturday.
The flight was the farthest north of the demilitarized zone separating North and South Korea that any US fighter jet or bomber has flown in the 21st century, the Pentagon said.
The B-1B Lancer bombers came from Guam and the US Air Force F-15C Eagle fighter escorts came from Okinawa, the Pentagon announced.
"This mission is a demonstration of US resolve and a clear message that the President has many military options to defeat any threat," Pentagon spokeswoman Dana White said, adding that the mission highlights the seriousness with which Washington takes North Korea's "reckless behavior."
The war of words between Pyongyang and Washington has escalated since US President Donald Trump took office. He has repeatedly stated that the White House has run out of patience with North Korean leader Kim Jong-un.
The leaders of the two countries have been locked in a battle of words recently, with Trump calling the North Korean leader "rocket man" and a "madman," while Kim Jong-un branded Trump a "mentally deranged US dotard."
Trump's insults against Kim Jong-un make "our rocket's visit to the entire US mainland inevitable," North Korean Foreign Minister Ri Yong Ho told the UN General Assembly on Saturday.
Not only will the insults from Washington fail to shake Pyongyang's resolve to pursue its nuclear and missile programs, but the UN-imposed sanctions will also fail, Ri warned.
"It is only a forlorn hope to consider any chance that the DPRK (North Korea) would be shaken an inch or change its stance due to the harsher sanctions by the hostile forces," the foreign minister said.
North Korea's ultimate goal, according to the minister, is reaching a strategic "balance of power with the US."
On Tuesday, Trump addressed the United Nations General Assembly for the first time. In his controversial speech, he referred to North Korean leader Kim Jong-un as "rocket man," and threatened to "totally destroy" North Korea if the US was forced to defend itself.
In response, Kim issued a statement Thursday, calling Trump's speech "unprecedented rude nonsense" and advising him to "exercise prudence in selecting words."
Kim stated that he would not abandon Pyongyang's nuclear tests, and threatened to make Trump "pay dearly" for his speech.
Last week, China's ambassador to Washington called on the US to stop making continuous threats over North Korea and "do more" to build bridges of understanding and negotiation instead.
To help end the crisis, Russia and China have proposed a "double-freeze" plan, which would see Pyongyang suspend its nuclear and ballistic missile tests in exchange for a halt in joint US-South Korea military drills.
The US has rejected the proposal, saying that it has every right to conduct exercises with its ally, South Korea. The US has also demanded more sanctions, calling for Russia to stop shipping oil to North Korea. However, Moscow has rejected these calls, stressing that dialogue, not sanctions, is the only solution to the crisis.

"There are possibilities to achieve the settlement of Pyongyang's problem by diplomatic means. This is possible and must be done," Russian President Vladimir Putin said at the Eastern Economic Forum (EEF) in Vladivostok earlier this month.
The leader said that Pyongyang apparently perceives nuclear weapons as its only protection, and will not abandon them under pressure from the US.
You can share this story on social media: