'Europe should not be an appendix of international politics' – German FM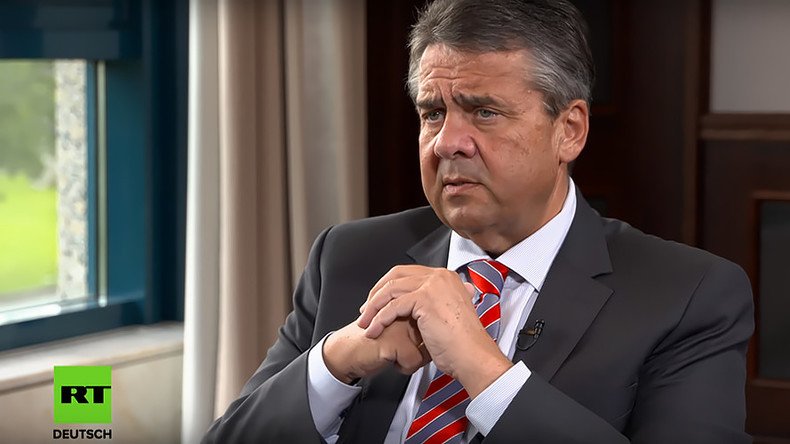 Europe should establish itself as an independent player in the international arena, rather than tagging along with the US or any other country, Germany's Foreign Minister Sigmar Gabriel told RT, as he advocated "a new détente" with Moscow.
"We have partners and allies, the Americans amongst them – but we are a continent that must also ensure that we are not a mere appendix of international politics," Gabriel said.
READ MORE: 'Why speak to an instrument of Russian propaganda?' – Spiegel to German FM on RT interview
He went on to argue that Europe has focused mainly on domestic affairs since WWII and in the meantime left the international realm as a matter for the US. However, times have changed and "it is not news" to Germany that the world has become multipolar, he added.
"In the past, we have often said that global politics are what the Americans do. If something goes wrong, we will complain. But I think we need to find our own voice."
Détente with Russia to solve global problems
The sharp disagreements between Moscow and Europe over the ongoing military conflict in eastern Ukraine and reunification of Crimea with Russia should not become an insurmountable obstacle hindering rapprochement between Europe and Russia, Gabriel argued.
"I am quite convinced that we need a new détente with Russia, even though because of the Crimea and Ukraine we have a difficult conflict. We are not going to solve many problems across the world without working together with Russia," he said.
Highlighting the importance of the Minsk accords in resolving the Ukraine crisis, Gabriel praised Russian President Vladimir Putin's recent initiative to send a UN peace-keeping mission to breakaway regions to ensure safety of OSCE monitors stationed here.
"We might disagree on the particulars of the mission. But it would be insane not to sit at the negotiating table to discuss the idea and its implementation ," the minister said, adding that if as a result of this mission a truce is achieved, then "we will have to start talking about lifting sanctions" imposed on Russia by the EU.
Among the areas where Russia and Europe, including Germany, have shared interests is nuclear non-proliferation and disarmament.
READ MORE: Merkel welcomes Putin's initiative on sending UN peacekeepers to Eastern Ukraine
Gabriel said that Germany is ready to back Russia, US and China in efforts to solve the long-standing crisis on the Korean Peninsula. As far as the Iranian nuclear agreement is concerned, Germany is ready to prop up the deal.
"Germany's role is to make sure that the Iran nuclear deal does not fall apart," Gabriel said.
'Resurgence of neo-Nazism' & Merkel's 'major mistake'
The eurosceptic Alternative for Germany (AfD) party is projected to emerge as a third force in the upcoming general election, behind only Angela Merkel's Christian Democratic Union (CDU) and its main rival, Gabriel's own Social Democrats (SPD). Gabriel described the AfD as "neo-Nazis," arguing that the party poses an unprecedented threat.
"Germany has not seen anything like this. This threat ought not to be downplayed," he said, accusing AfD of emboldening people who promote "Nazi propaganda."
"I'm not saying all AfD supporters are Nazis. But everyone who votes for them has to know it is led by people who are nothing other than neo-Nazis," he argued.
Gabriel, who was SPD chairman before stepping down in January and clearing the way for former European Parliament President Martin Schulz, also criticized Merkel for neglecting the needs of ordinary Germans while caring for foreign arrivals.
"I think Angela Merkel made a big mistake when she refused to back the idea of a universal basic income. It is something our nation needs. Then I would be able to tell those communities that are seeing a wave of refugees: 'We will compensate your expenses on refugees and will also provide the same amount for our own citizens.'"
'We don't owe NATO 2% of GDP'
Gabriel said he believes Germany should remain a peaceful nation, lambasting Merkel's plan to double the defense budget to over 70 billion euros ($83bn). The plan, he argued, risks depleting funds needed to support educational and infrastructure projects or for developing countries as humanitarian assistance.
The US demands for Germany to spend more on common defense within NATO is not substantiated either, according to Gabriel.
"No, NATO never decided that 2% of GDP should be spent on defense. Somehow this argument between Merkel and Trump made it sound like we owe something to someone. But we do not have to do this," he said, calling the military spending increase championed by Trump a "false idea."
READ MORE: 'Peace order in Europe can only be achieved with Russia' – Merkel
However, Gabriel said he finds the idea of creating a European Army, sometimes portrayed as an alternative to the NATO construct, not viable at the moment.
"I think that at this point it is not a very realistic idea. But we waste money trying to achieve the same goals without cooperation. That doesn't make sense – cooperation would make sense."
Find full interview with Sigmar Gabriel to RT here.
You can share this story on social media: