North Korea problem cannot be solved without Russia, China – German FM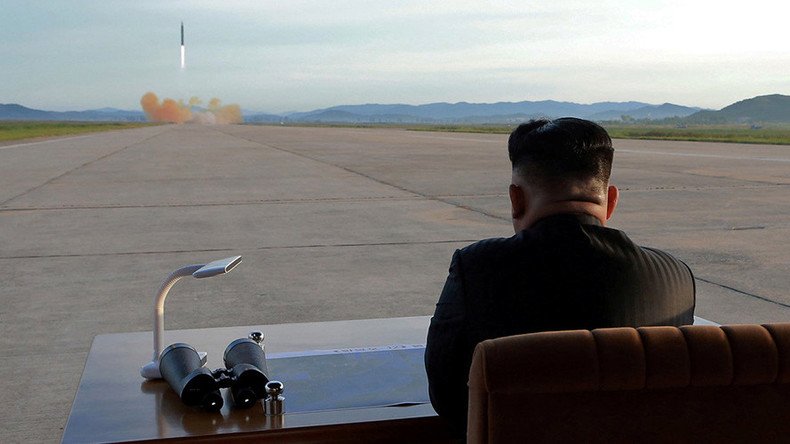 During a visit to Beijing, German Foreign Minister Sigmar Gabriel told reporters that Russia, China and the US should work together to solve the North Korean crisis, otherwise "our children will grow up in a very dangerous world."
Gabriel was in Beijing for six hours on Sunday to open an exhibition by German artists and also to hold talks with his Chinese counterpart, Yang Jiechi, about the crisis on the Korean Peninsula.
"It is clear that a dual strategy of pressure and dialogue towards North Korea is needed," he told German news agency DPA, adding that sanctions over nuclear and missile programs should be "determined and complete."
"In addition, we need to enter a political process with North Korea to make progress on the denuclearization of the peninsula."
Gabriel said the process must involve Russia, China and the US working together.
He had previously urged China, the US and Russia to "take a new start on policy of détente."
"Without the cooperation of these three countries, we will not solve the problem," he told reporters in China. "If we do not succeed, our children will grow up in a very dangerous world."
He noted that China is in a particularly precarious position, fearing that too much pressure will cause the North Korean government to collapse right on its doorstep. However, it is necessary to stop the spread of nuclear weapons, because if North Korea becomes a nuclear power, Japan and South Korea might try to follow.
"And in our [European] neighborhood, in Africa, states will then say, look, you can get it [nuclear armaments]. The world is watching and nothing happens," Gabriel said.
Tensions have been steadily rising on the Korean Peninsula over the past few months, with Pyongyang conducting several missile and nuclear tests in defiance of rulings by the UN Security Council, while the United States has continued joint exercises with South Korea and Japan while amplifying its rhetoric against Pyongyang.
"North Korea best not make any more threats to the US. They will be met with fire and fury like the world has never seen," President Donald Trump said in August. In response, North Korea said it was "carefully examining" a plan for a missile strike near the US territory of Guam, a Pacific island 3,400km from the Korean Peninsula.
Russia and China, while approving the latest round of sanctions against Pyongyang last week, have repeatedly called for a diplomatic solution to the crisis. Moscow argued that more punitive measures will not ease the distrust North Korea feels about the US and its allies, and instead will likely result in a humanitarian catastrophe.
"Ramping up military hysteria in such conditions is senseless; it's a dead end," Russian President Vladimir Putin said earlier in September. "It could lead to a global, planetary catastrophe and a huge loss of human life. There is no other way to solve the North Korean nuclear issue, save that of peaceful dialogue."
Russia and China have proposed a 'double-freeze' solution to the crisis, wherein the United States ceases its drills with South Korea in exchange for the North suspending its missile and nuclear tests. However, the US has rejected these proposals, saying it has every right to carry out exercises with its allies.
You can share this story on social media: