'US conducts 'decapitation drills' with Seoul, wonders why Kim Jong-un paranoid'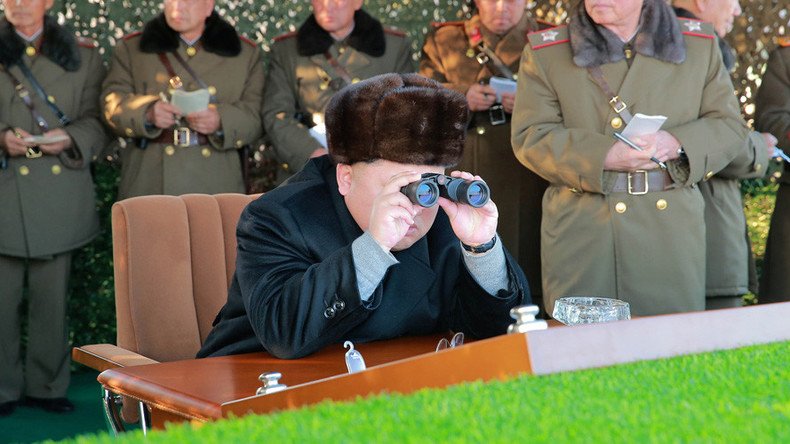 The policy of using the threat of military force as the only US tool has become ingrained in the mentality. As they don't consider alternatives, we have to jump off the treadmill headed toward a terrible ending, says former US diplomat Jim Jatras.
An anti-war protest in South Korea has seen dozens of people injured in clashes with police and many arrested.
Demonstrators were trying to block a convoy of rocket launchers for the controversial US anti-missile system known as THAAD (Terminal High Altitude Area Defense) which is designed to destroy ballistic missiles. Nearly 400 peace activists turned out for the rally at the US military base in a small farming village some 300 kilometers southeast of the capital Seoul.
They were met by 8,000 security officers sent to oversee the convoy's arrival. Despite the clashes, the system's components have now been deployed.
Washington says it will continue to deploy troops and weapons to the Korean Peninsula.
RT: Why do you think we are seeing the backlash from people there? Aren't these missile systems there to protect them?
Jim Jatras: Let's remember soon after he was inaugurated the current president, Moon Jae-in, was very skeptical about the deployment of the THAAD, and his dodge was ordering an environmental review and supposedly that review has tentatively been completed at a minimal level of risk. But he has been under a lot of pressure from Washington, and I think these demonstrations are largely directed against him. Moon ran on a more moderate platform. These are his constituents, so to speak, who are looking for somebody to jump off this treadmill headed toward a very bad ending it seems because there is simply no military scenario that anybody has come up with that doesn't result in an awful lot of South Koreans dying. And I think it is quite understandable some of these people are saying, 'We've got to do something else.'
RT: Will Washington continue to beef up its military presence in the region?
JJ: I hope not, but at the moment that seems to be the direction it is going. There is a real chicken and egg issue here. Yes, Kim tests more missiles. He has tested what he claims is a hydrogen bomb. At the same time we have not only the THAAD deployment, we have the changing of the payload restrictions on Korean missiles, possibly to accommodate nuclear weapons, open talk about Americans putting nuclear weapons into Korea. We've been practicing with the South Korea what is openly described as 'decapitation drills' against the North Korean leadership. And of course, Kim Jong-un would have to understand that means himself personally. And then we wonder why are those guys so paranoid.
It is interesting, President Trump scolded South Koreans in a tweet last week saying their approach isn't working, that the only thing the North Koreans understand is force.
South Korea is finding, as I have told them, that their talk of appeasement with North Korea will not work, they only understand one thing!

— Donald J. Trump (@realDonaldTrump) September 3, 2017
I sometimes feel that force is the only thing that some people in Washington understand. The only thing in their toolkit is more threats, more weapons, even if it shows that things are only going to become more dangerous.
RT: President Trump is ready to sell more weapons to South Korea and Japan. What's your view on that?
I am allowing Japan & South Korea to buy a substantially increased amount of highly sophisticated military equipment from the United States.

— Donald J. Trump (@realDonaldTrump) September 5, 2017
JJ: I think it is part of it. And let's remember one of the big items on his maiden voyage as president to Riyadh was selling a hundred billion something dollars in weapons to the Saudis. Why? So that they can continue their horrific campaign in Yemen, I guess.
Part of it is that "these are good customers, let's go and sell these weapons." But I think the militarization of the policy of using military threats and military force as the only item in our toolkit has somehow become so ingrained in their mentality. They really don't consider other alternatives like, for example, the Chinese proposal on a 'double freeze' which has been rejected out of hand by Washington.
The statements, views and opinions expressed in this column are solely those of the author and do not necessarily represent those of RT.
You can share this story on social media: